4 Crew Members Arrested For Smuggling 27kg. of Gold
Okinawa Customs and Japan Coast Guard have arrested a group of four crewmembers at the port of Naha, on suspicion of violating the customs laws. The crew, all Chinese nationals, are suspected of smuggling 27 kilograms of gold, valued at $1,2 million, onboard a luxury cruise ship arriving from Hong Kong, reports Okinawa News site Japan Update. The arrested crew are identified as 29-year-old Tan Hong Ming working in the Spa Department as a hairdresser, 30-year-old Lo Ho Cheng, 26-year-old Son Huang, and 22-year-old Huang Seucheon.
According to the indictment, they attempted to smuggle 27 gold bars, each weighting one-kilogram, into Japan and evade a total of $89,000 in taxes. The police report says that Lo has smuggled the gold on the Bahamas-registered cruise ship Genting Dream and hid the bars onboard. When the vessel arrived at Naha Port on October 3rd, the crew members left the ship carrying the gold hidden in their underwear. 
Naha Police is investigating the case, and District Public Prosecutors Office brought charges against the four on the same day. This is the second large-scale smuggling involving a cruise ship, after an attempt to bring stimulants into Japan was discovered in December 2016.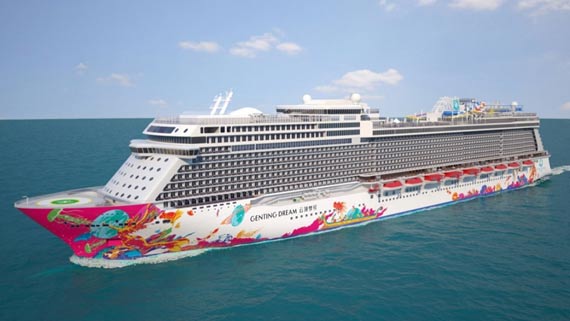 Genting Dream is one of the largest luxury cruise ships in Asia, weighing 153,000 gross tons, the vessel has a capacity of 3,400 passengers. Genting Dream is operated by Dream Cruises, a subsidiary of Genting Hong Kong.