80-meter high tsunami threatens to devastate Geiranger
All residents around the Great Fjord in western Norway are aware of the danger coming from the mountains. Storfjorden is one of the most beautiful fjords in Norway. On average 700.000 tourists flock to see this breathtaking fjord, many traveling by cruise ship. However few tourists know that this is the world's most monitored mountain.
The 900 meter high Åknesfjället looks like a very ordinary mountain. But along the mountain side runs a 700 meters long and up to 30 meters wide crack, each year growing larger by up to 15 centimeters.This crack makes the mountain so unstable that the whole mountainside sooner or later will plunge into the fjord. When the 900 meters mountain section slides down into the 320 meter deep fjord will slide 150 million tons of rock, triggering tsunami wave up to 80 meters high.
Several communities will be completely destroyed. First affected by the disaster will be the village of Hellesylt with more than 250 residents. Six minutes after the landslide sweeps, the industrial town of Stranda will be affected, and after ten minutes the wave will destroy completely the famous tourist resort of Geiranger where many cruise ships arrive during the summer months.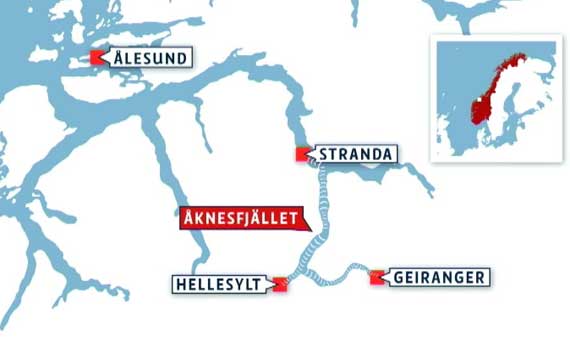 The reason why the inhabitants of the area are not afraid of this potential disaster and the possible monster wave is because mountain Åknesfjället is the most monitored mountain in the world. Mountain side is covered by large amounts of state-of-the-art equipment that registers the slightest movement. Webcams make it possible to follow everything that happens on the mountain. Meteorological stations collect information on precipitation, temperature and snow depth. Seismic sensors picks up the rock movements. The world's longest sensor is available here. It goes 150 meters into the mountain.
Geologists in Åknes / Tafjord center in the Strand expect to be able to warn the residents of the area at least 72 hours before the collapse occurs. Allowing time for evacuation of up to 5000 people in ten municipalities around Storfjorden to be evacuated. This will be the the largest evacuation in peacetime in Norway history.
In 1934, 64-meter high tsunami wave caused devastation in Tafjorden killing 40 people.
Source: Norwegian Geotechnical Institute