Free Onboard Internet for Bahamas Paradise Cruise Line Crew Members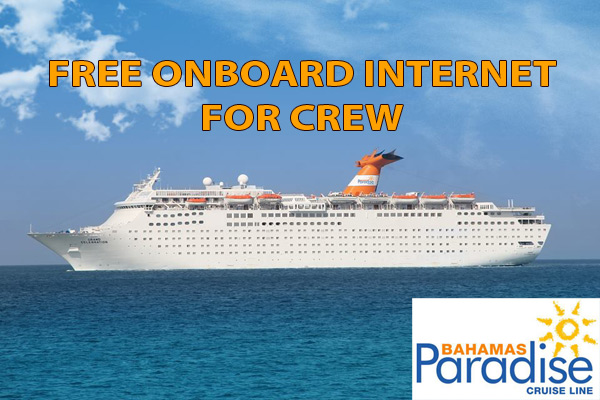 The crew working onboard Bahamas Paradise Cruise Line ships can surf the net at no cost. The company announced that shipboard employees can now enjoy the ships internet and connect with family and friends using popular online services including video calls, downloads, and social media. This is a great news since crew will not have to go in the port, trying to find free Wi-Fi. Instead, they can browse the net from their cabin or other locations around the ship for free.
"As a former shipboard IT Manager, I have long understood the importance for crew members to have regular contact with loved ones while at sea. I am proud we can now offer this service to our valued crew, delivering the required bandwidth to support services and apps beyond simple e-mail and text messaging." Said Richard Coombs, Vice President of IT Services for Bahamas Paradise Cruise Line.
For the company, this means more rested and productive crew, focused on guest's satisfaction. The fast Wi-Fi service for the shipboard employees allows the use of video calls and downloads on all social sites. At the moment 1GBit connectivity is available when the vessel is in near a port or at the dock. When the cruise ship is at sea the connection is more limited however Bahamas Paradise Cruise Line is working with to increase performance while at sea in the near future.
Bahamas Paradise Cruise Line is the second cruise company after Viking Ocean Cruises offering free internet for crew members. On all other cruise lines, the crew must pay to use the internet which is quite expensive. We hope that other cruise lines will follow this trend and offer this vital service to the crew free of charge.
Articles that might interest you