MSC Opera Crew Member Reveals Her Shocking Story Why She Decided Never Again to Board the Ship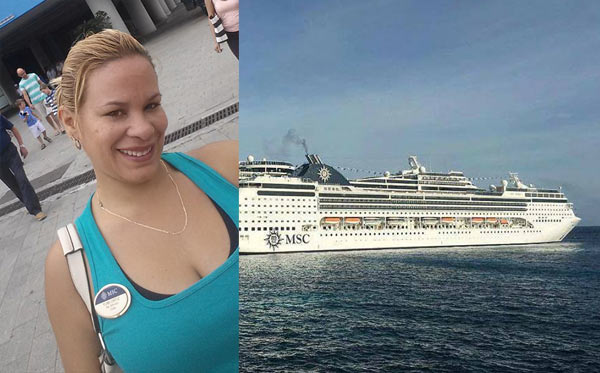 MSC Opera crew member who went missing in George Town, revealed her shocking story in a Court why she decided to stay in Grand Cayman and never return to the cruise ship. The Cuban national Yusmaidys Ortiz Pérez, who was working as a bar waitress on the ship MSC Opera appeared in Court on Friday due to her overstay in Grand Cayman for illegally remaining on the island for 12 days, reports Cruise Law News. She disembarked in George Town while the cruise ship was in port on March 22 and reported missing on March 27. Eight days later after her reported disappearance, Royal Cayman Islands Police Service have located Mrs. Pérez in good health and she was arrested.
At the court hearing last Friday she revealed the motive behind her desperate decision to stay on the island, reports Cayman Compass. According to her defense lawyer Mrs. Pérez was a victim of exploitation by her Manager on MSC Opera, and death threats by her husband back in Cuba.
Her defense attorney Prathna Bodden told the court that Ms. Perez "broke down" because her partner in Cuba had threatened to kill her and a manager on the ship was "exploiting" her.
"While on the ship, she was exploited by a manager and she was asked to perform certain duties and if she didn't, she was told she would lose her job," Ms. Bodden said. She didn't approve the attention from the manager and when she was invited to his cabin, she would say NO because she had been working 11 hours or because she did not want to.
There is a "Cuban community" on MSC Opera, and Ms. Ortiz Perez had a partner back in Cuba and a message was sent to him that she had started a relationship with that manager. Her partner then sent word back that he was going to kill her once the ship arrives in Havana. That's when Ms. Perez broke down and took desperate decision to hide in the small Caribbean Island. There was too much pressure on the work, stalking by her supervisor and death threats from back home, which no one can endure.
On the offense of remaining in Cayman Islands illegally, Yusmaidys Ortiz Pérez pleaded guilty. She was sentenced to 3 months in jail, with a recommendation for deportation to Cuba on completion of the sentence.
"I accept you are in distress and find yourself in a difficult position," the magistrate told Ms. Ortiz Perez. "The sentence will allow you to get help, while expressing disapproval of what you've done."
Mrs. Perez has a two-year-old son which is in care of her mother back in Cuba. In a pursuit for a better life for her child and her family, she embarked to work for MSC Cruises. She joined MSC Opera in December 2017, and for four torturing months, she had unbearable pressure at work and from home. This is not Mrs. Perez first contract as she had already completed couple of them on MSC cruise ships.
Aldo cruise ships generally provide safe working environment, there are some Managers and Supervisors who are exploiting their power onboard and influence in the office, giving the bad name to the company. As long as these stories repeat all over again and the cruise line doesn't take swift actions to remove these individuals who bring misery and pain to the ordinary crew then they are becoming accomplices by approving this kind of behavior.