Pointers for Cruise Ship Bar Utility Position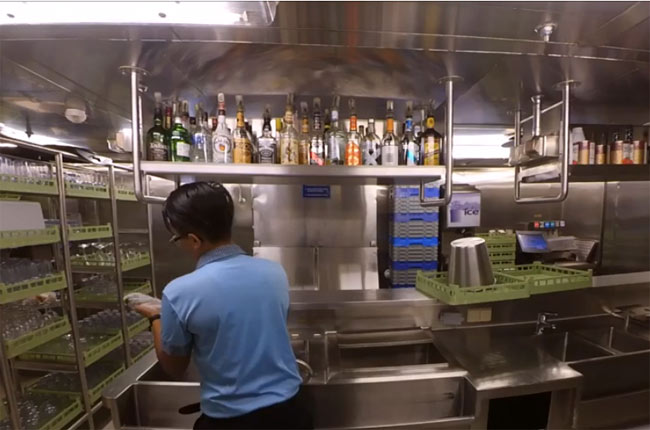 The following text was composed by John Sparc in order to help future candidates applying for the position Bar Utility on cruise ships. It consists of questions and answers of the daily operations and knowledge which any future candidate needs to follow.
What is Bar Utility on Cruise Ship?
They are responsible for supporting bar operations, ensuring an adequate supply of alcohol and mixers, clean glasses, ice, and garnishes in all bar venues; and maintaining the cleanliness of all bar areas, glassware, and equipment, observing proper USPH sanitation procedures in all cleaning tasks. 
General cleaning, sanitizing, tidying and maintenance of bar and store areas, including sweeping or scrubbing floors and surfaces. Sorting and removing trash, placing it in pickup areas, and cleaning garbage bins. 
What are the different types of bar glasses?
Bar Glassware - Beer Glass, Brandy Snifter, Champagne Flute, Collins Glass, Cordial Glass, Highball Glass, Hurricane Glass, Martini Glass, Margarita Glass, Goblet, Red Wine Glass, White Wine Glass, Etc. Alcoholic Beverages: Beers, Wines, Spirits, Liqueurs 
Different Brands of Beers?
Tsingtao, Budweiser, Heineken, Corona, Coors Light, Grolsch, Dos XX, San Miguel Bee, Miller Light, Blue Moon, Fosters, Guinness, Bass Ale, Alaskan Amber. 
Types of Wines Riesling, Chardonnay, Sauvignon blanc, Syrah, Merlot, Cabernet Sauvignon, Pinot noir. 
What are the Bar Spirits of alcohol?
Brandy, Gin, Rum, Tequila, Vodka, Whisky, Cachaoa, Schnapps 
What are the different types of liqueurs? 
Amaretto, Baileys Irish Cream, Campari, Cointreau, Frangelico, Kahlua, Sambuca. 
What is USPH?
The United States Public Health (USPH) is a division of the Department of Health and Human Services concerned with public health. 
What is the 3 bucket system?
The Three Bucket System. This is a procedure for washing, rinsing, and sanitizing where a different bucket and sponge or mop is used for each task. 
What is the correct ppm for sanitizes solution?
Chlorine-based Sanitizers — provide at 50 to 100 ppm (do not exceed 200 ppm) 
When testing sanitizing solution that contains chlorine check the following test results demonstrates that the solution is at the correct concentration. Chlorine-based sanitizers: Dip the strip into the sanitizing solution, then immediately remove and compare it to the color chart. If it reads between 50 ppm and 200 ppm, then the concentration is fine. 
What is the correct ratio for preparing a sanitizing solution?
Use a sanitizing solution of 1 teaspoon of liquid chlorine bleach to one gallon of warm water (at least 75°F) (200 ppm solution) with clean wiping cloth. (Note: solution should be changed often).