RCCL Enchantment of The Seas Itinerary
Download entire Royal Caribbean Enchantment Of The Seas cruise ship Itinerary in PDF file for season 2016 – 2017. Find out where the ship is located at an exact date with arrival and departure times in port. Primarily this document is for the use of Enchantment Of The Seas Itinerary crew members and their families, however, everyone is welcomed to share and use it. Download the schedule in PDF at the bottom of this page.
Enchantment of the Seas Sailing Schedule September / October 2017.
| | | | | |
| --- | --- | --- | --- | --- |
| Cruise Ship | Date | Cruise Port | Arrive | Depart |
| Enchantment of the Seas | 01-September-2017 | Miami, Florida | 07:00 | 16:30 |
| Enchantment of the Seas | 02-September-2017 | Coco Cay, Bahamas | 08:00 | 17:00 |
| Enchantment of the Seas | 03-September-2017 | Nassau, Bahamas | 08:00 | 17:00 |
| Enchantment of the Seas | 04-September-2017 | Miami, Florida | 07:00 | 16:00 |
| Enchantment of the Seas | 05-September-2017 | Nassau, Bahamas | 08:00 | 23:59 |
| Enchantment of the Seas | 06-September-2017 | Coco Cay, Bahamas | 08:00 | 17:00 |
| Enchantment of the Seas | 07-September-2017 | Key West, Florida | 10:00 | 18:00 |
| Enchantment of the Seas | 08-September-2017 | Miami, Florida | 07:00 | 16:30 |
| Enchantment of the Seas | 09-September-2017 | Coco Cay, Bahamas | 08:00 | 17:00 |
| Enchantment of the Seas | 10-September-2017 | Nassau, Bahamas | 08:00 | 17:00 |
| Enchantment of the Seas | 11-September-2017 | Miami, Florida | 07:00 | 16:00 |
| Enchantment of the Seas | 12-September-2017 | Nassau, Bahamas | 08:00 | 23:59 |
| Enchantment of the Seas | 13-September-2017 | Coco Cay, Bahamas | 08:00 | 17:00 |
| Enchantment of the Seas | 14-September-2017 | Key West, Florida | 10:00 | 18:00 |
| Enchantment of the Seas | 15-September-2017 | Miami, Florida | 07:00 | 16:30 |
| Enchantment of the Seas | 16-September-2017 | Coco Cay, Bahamas | 08:00 | 17:00 |
| Enchantment of the Seas | 17-September-2017 | Nassau, Bahamas | 08:00 | 17:00 |
| Enchantment of the Seas | 18-September-2017 | Miami, Florida | 07:00 | 16:00 |
| Enchantment of the Seas | 19-September-2017 | Nassau, Bahamas | 08:00 | 23:59 |
| Enchantment of the Seas | 20-September-2017 | Coco Cay, Bahamas | 08:00 | 17:00 |
| Enchantment of the Seas | 21-September-2017 | Key West, Florida | 10:00 | 18:00 |
| Enchantment of the Seas | 22-September-2017 | Miami, Florida | 07:00 | 16:30 |
| Enchantment of the Seas | 23-September-2017 | Coco Cay, Bahamas | 08:00 | 17:00 |
| Enchantment of the Seas | 24-September-2017 | Nassau, Bahamas | 08:00 | 17:00 |
| Enchantment of the Seas | 25-September-2017 | Miami, Florida | 07:00 | 16:00 |
| Enchantment of the Seas | 26-September-2017 | Nassau, Bahamas | 08:00 | 23:59 |
| Enchantment of the Seas | 27-September-2017 | Coco Cay, Bahamas | 08:00 | 17:00 |
| Enchantment of the Seas | 28-September-2017 | Key West, Florida | 10:00 | 18:00 |
| Enchantment of the Seas | 29-September-2017 | Miami, Florida | 07:00 | 16:30 |
| Enchantment of the Seas | 30-September-2017 | Coco Cay, Bahamas | 08:00 | 17:00 |
| Enchantment of the Seas | 01-October-2017 | Nassau, Bahamas | 08:00 | 17:00 |
| Enchantment of the Seas | 02-October-2017 | Miami, Florida | 07:00 | 16:00 |
| Enchantment of the Seas | 03-October-2017 | Nassau, Bahamas | 08:00 | 23:59 |
| Enchantment of the Seas | 04-October-2017 | Coco Cay, Bahamas | 08:00 | 17:00 |
| Enchantment of the Seas | 05-October-2017 | Key West, Florida | 10:00 | 18:00 |
| Enchantment of the Seas | 06-October-2017 | Miami, Florida | 07:00 | 16:30 |
| Enchantment of the Seas | 07-October-2017 | Coco Cay, Bahamas | 08:00 | 17:00 |
| Enchantment of the Seas | 08-October-2017 | Nassau, Bahamas | 08:00 | 17:00 |
| Enchantment of the Seas | 09-October-2017 | Miami, Florida | 07:00 | 16:00 |
| Enchantment of the Seas | 10-October-2017 | Nassau, Bahamas | 08:00 | 23:59 |
| Enchantment of the Seas | 11-October-2017 | Coco Cay, Bahamas | 08:00 | 17:00 |
| Enchantment of the Seas | 12-October-2017 | Key West, Florida | 10:00 | 18:00 |
| Enchantment of the Seas | 13-October-2017 | Miami, Florida | 07:00 | 16:30 |
| Enchantment of the Seas | 14-October-2017 | Coco Cay, Bahamas | 08:00 | 17:00 |
| Enchantment of the Seas | 15-October-2017 | Nassau, Bahamas | 08:00 | 17:00 |
| Enchantment of the Seas | 16-October-2017 | Miami, Florida | 07:00 | 16:00 |
| Enchantment of the Seas | 17-October-2017 | Nassau, Bahamas | 08:00 | 23:59 |
| Enchantment of the Seas | 18-October-2017 | Coco Cay, Bahamas | 08:00 | 17:00 |
| Enchantment of the Seas | 19-October-2017 | Key West, Florida | 10:00 | 18:00 |
| Enchantment of the Seas | 20-October-2017 | Miami, Florida | 07:00 | 16:30 |
| Enchantment of the Seas | 21-October-2017 | Coco Cay, Bahamas | 08:00 | 17:00 |
| Enchantment of the Seas | 22-October-2017 | Nassau, Bahamas | 08:00 | 17:00 |
| Enchantment of the Seas | 23-October-2017 | Miami, Florida | 07:00 | 16:00 |
| Enchantment of the Seas | 24-October-2017 | Nassau, Bahamas | 08:00 | 23:59 |
| Enchantment of the Seas | 25-October-2017 | Coco Cay, Bahamas | 08:00 | 17:00 |
| Enchantment of the Seas | 26-October-2017 | Key West, Florida | 10:00 | 18:00 |
| Enchantment of the Seas | 27-October-2017 | Miami, Florida | 07:00 | 16:30 |
| Enchantment of the Seas | 28-October-2017 | Coco Cay, Bahamas | 08:00 | 17:00 |
| Enchantment of the Seas | 29-October-2017 | Nassau, Bahamas | 08:00 | 17:00 |
| Enchantment of the Seas | 30-October-2017 | Miami, Florida | 07:00 | 16:00 |
| Enchantment of the Seas | 31-October-2017 | Nassau, Bahamas | 08:00 | 23:59 |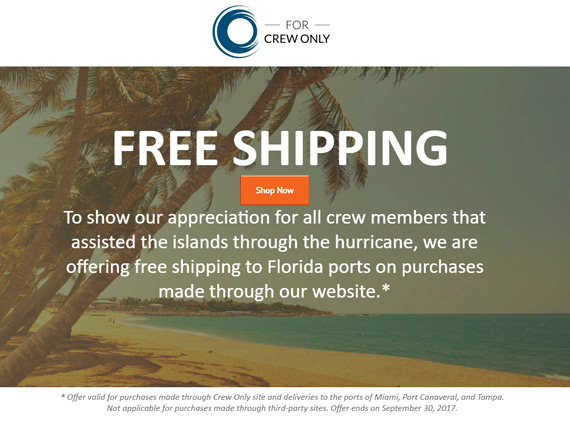 Articles that might interest you