Salty Dog Gastropub Service Procedures on Princess Cruises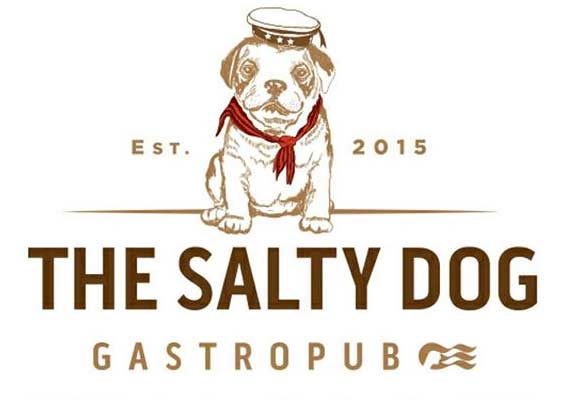 Princess Cruises partnership with chef of the original Umami Burger, Ernesto Uchimura has brought The Salty Dog Gastropub at sea.  Organized in a comfortable, pub style atmosphere to offer distinctive dishes, with drinks from around the world with live music on select nights to enhance the guest's experience. The following are Salty Dog service procedures from the moment guest enters the gastropub until he/she have finished dining.
1.Host (Bartender) at the door to welcome and escort passengers to their table. At all times Host to check on guests dining experience.
2.Bar Server: "Good evening ladies an gentlemen, Welcome to the Salty Dog" on Princess Cruises. 
It is at this time the menu is handed out.
3.Bar Server: "I will be taking care of you this evening; My name is ( bar servers name)
4.Server to ask passengers if they would like still or sparkling water and present the choice at the table. If none is wanted tap water to be served.
5.Bar Server explains menu: "Your complimentary appetizer will be along shortly, all you need is to order are 3 Main Courses each. Our main courses are intended to be shared if you wish.
6.Bar Server to say: "What can I offer you from the bar, can I interest you in one of our specialty Craft cocktails, wine are craft beers?"( bar server to point to the beverage selection in the menu) Full bar menu and exclusive whisky selection are also available.
7.Take Bar order from the passenger(s) and process in Micros.  
8.Pick up appetizer and serve. (Appetizer is served and is placed in center of table. Placed between two passengers). Small plate will be part of the table set up.
9.Collect bar order and serve beverages
10.It is at this stage the bar server will take passengers main course order on note pad. He/she will inform passengers of their choice between Truffle Parmesan fries or Sweet Potato fries.  Process order through in Micros
11.Appetizers are cleared.
12.Table prepared for main course- cutlery set up.
13.Check on Beverages and Food on all assigned tables
14.Server picks up main course in the galley and places main courses on table 
Bar Server to ensure all main courses served are correct and wish passengers to enjoy their meal. 
15.At the conclusion of the main course eaten, bar servers to ask if princss cruises passengers enjoyed their meal.
16.All service cutlery and condiments are cleared from the table.
17.Menus are handed to guests for dessert selection. Only one selection of Dessert per passenger.
18.Bars Server to ask cruise passengers for coffee/tea or liqueur.
19.Dessert order taken and order placed in Micros
20.Prepare table set up for dessert
21.Serve Dessert
22.Once passengers have finished dining please present cover charge and beverage check.
23.Advise passengers of the Whiskey bar selection.
24.Welcome passengers back to dine in the Salty Dog and wish them a pleasant evening.