Virgin Voyages Reveals Crew Uniforms Collection
Virgin Voyages has unveiled several pieces from its new crew uniform collection for their first cruise ship Scarlet Lady, set to sail next year. Designed by the British fashion icon Gareth Pugh the entire concept is quite unique and like nothing, we have seen on the other cruise lines. The new concept of crew uniforms combines the "Modern Romance of Sailing" motif promoted by Virgin Voyages and Pugh's high-fashion modernist approach. The collection presents a combination of structure and fluidity and includes a wide range of combinations that goes back to the early days of yachting.
The uniforms were also designed with the help from crew members and Richard Branson at each step of the process. Virgin Voyages also partnered with sister companies under the Virgin banner to test the uniforms and ensure that the final product would support a variety of job tasks, climates and body types. Below are several crew uniforms from the photo session. The complete collection will be showcased at London Fashion Week tomorrow.
Stylish uniforms on the high seas
'We want Virgin Voyages' crew to be the happiest at sea and making sure that they feel comfortable and confident is a big part of that experience. Gareth Pugh and the Virgin Voyages team have worked hand-in-hand to bring to life what will soon be the most eye-catching and stylish uniforms on the high seas,' said Sir Richard Branson, founder of the Virgin Group, who was closely involved in the uniforms' conception.
No stripes or ties
'For this project, we were really allowed to push the boundaries, and to redefine the idea of what constitutes a uniform. We ultimately wanted to make everything about it modern, luxurious and desirable — to allow the entire crew to look and feel like a million dollars, in keeping with the rest of the experience,' Pugh said.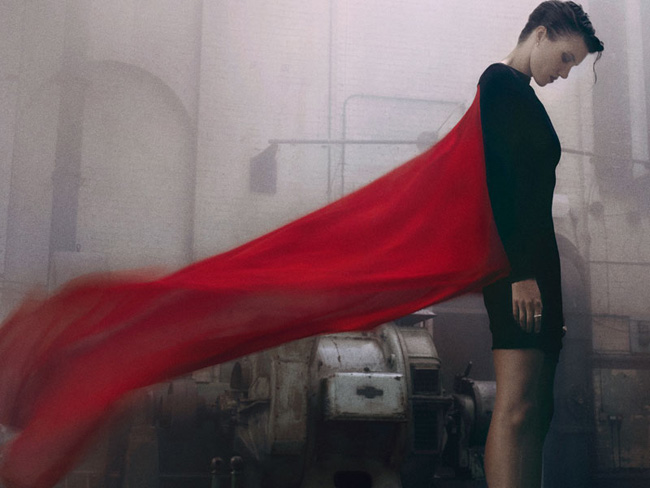 The collection allows for most crew to have a range of looks to choose from a day and night outfits, and there will not be stripes for officers, or ties and no waistcoats for the waiters and other service staff.
PLAE sneakers as part of the crew uniform
Putting a twist on the iconic Virgin Atlantic red, many of Pugh's designs will be combined with the Mulberry red sneakers created by San Francisco-based Company PLAE. The PLAE sneakers with the Virgin logo are intended to contrast with the uniform designs for a rock star look. The Mulberry shoes were designed especially for Virgin Voyages for comfort and versatility. PLAE shoes feature eco-friendly lining sourced from coffee grounds through sustainable technology and are manufactured in PLAE's fair labor factory using water-based glue and renewable materials wherever possible.