All cruise ship calls to Dominica canceled due to unrest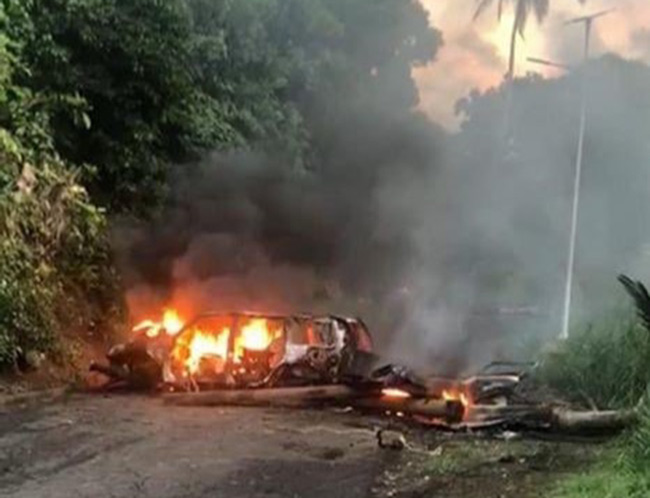 In an interview for Kevz Politics, Dominica Prime Minister Roosevelt Skerrit announced today that all cruise ship calls to Dominica have been canceled effective immediately. The decision comes after unrests intensified in the small Caribbean island nation ahead of elections on Friday, 06 December 2019. Prime Minister said that this decision will remain in effect until after the general election period when hopefully, this madness will subside.
The protests in Dominica, saw demonstrators blocking the two main roads with burning debris which lead to the Douglas-Charles Airport. People have also set up fiery roadblocks in the north-eastern constituency of Marigot which is represented by the opposition.
Addressing the nation on Monday night, Prime Minister Roosevelt Skerrit accused the opposition Leader Lennox Linton and his Part of encouraging the violence as part of its strategy to disrupt the election, calling an end to the lawlessness.
Here is the video of Prime Minister Roosevelt Skerrit announcing the cancelation of cruise ship arrivals in Dominica.
#BREAKING - Skerrit: All cruise ship calls to Dominica cancelled effective immediately; calls set to resume after Friday's General Elections; a team of regional law enforcement personnel from the Barbados-based Regional Security System on the ground to restore law & order pic.twitter.com/y8I08gMIkb

— Kevz Politics (@KevzPolitics) December 5, 2019
With two cruise ship ports, Portsmouth and Roseau, this beautiful small island nation in the middle of the Caribbean is dependent on tourism. Today the cruise ship Marella Explorer 2 was expected to arrive at Roseau Cruise Ship Pier, however according to Marine Traffic satellite position the ship is in Pointe A Pitre, today.
Roseau is a very popular destination among cruise ship travelers and many cruise ships were expected in the following days.  Among the cruise ships scheduled to arrive in Roseau during the following days are:
Viking Sea on 07 December, AIDAperla on 08 December, Marella Celebration on 09 December, Celebrity Summit on 10 December, and Crown Princess on 11 December.