Brazilian Cruise Ship Crew Member Missing in Italy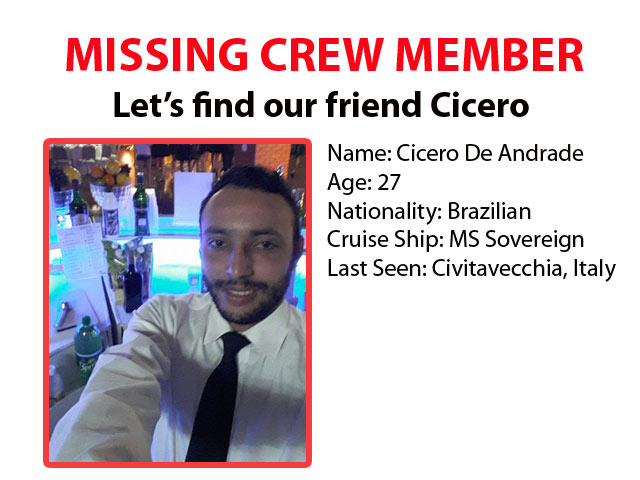 Cicero De Andrade, a crew member working as a bartender on the cruise ship MS Sovereign operated by Pullmantur Cruises went missing in Italy. The Brazilian national was last seen on June 20, after he disembarked from the cruise ship at the port of Civitavecchia. Cicero De Andrade is a 27-year-old male from Santos, Sao Paulo, Brazil.
The Brazilian crew community has been very active on the social media, sharing Cicero photo in an attempt to try to locate the missing crew member. One of his friends says that he was chatting with Cicero the day he went missing at 2:57 pm... He was good... and didn't say anything about not returning back to the ship... but he stopped the conversation in the middle of texting. Another friend of Cicero says he spoke with his brother Glauber who informed him that he left a letter on the ship that reads "Don't wait for me".
Cicero phone was found in Civitavecchia by a man who sent a message on the missing crew member Facebook profile on July 25, saying that he found the phone on the street a few days ago.
If you have any information regarding his disappearance please send a message to his brother Glauber Andrade or call +55 13 99617-4704.