The New Mein Schiff 2 Will Be Baptized in Lisbon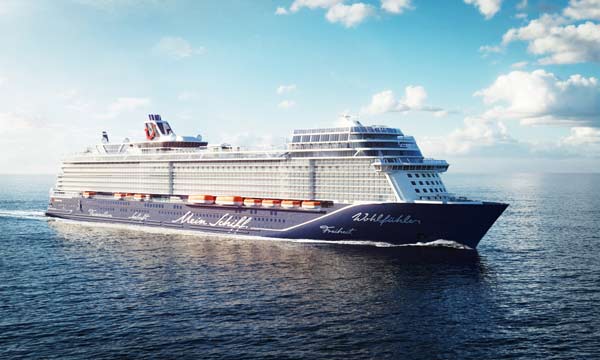 For the first time, the Portuguese capital will be host for the baptism of a new generation cruise ship, the Mein Schiff 2. The latest TUI Cruises vessel will be christened in Lisbon on February 9, 2019, the Port of Lisbon reported in a press release.
The baptism ceremony will take place during the first stop of the ship in Lisbon, which is part of the inaugural voyage of Mein Schiff 2, sailing from Bremerhaven to Las Palmas de Gran Canaria, including stops in La Coruña, Leixões, Lisbon, Cadiz, and Arrecife.
"The Administration of the Port of Lisbon, SA and Lisbon Cruise Port welcomes the decision, for the first time, the city of Lisbon to be host of the baptism ceremony of the recently completed cruise ship, which highlights the growing importance of Portuguese capital as a cruise center, "reads the press statement.
At 315.7 meters in length, 111,500 tonnes and 14 decks, the new Mein Schiff 2, which is being built in Finland, has a capacity of 2,894 passengers and 1,000 crew members and is due to be delivered to TUI Cruises later this year.
Mein Schiff 2 will be a sister ship to Mein Schiff 1, with added length of 20 meters from the previous ships in the series. TUI Cruises and Meyer Turku have also agreed to build Mein Schiff 7 with delivery in 2023. TUI Group's fleet currently operates 15 cruise ships, by its subsidiaries TUI Cruises, Hapag-Lloyd Cruises and Marella Cruises.
Articles that might interest you