TUI Discovery 2 Christened by the Captain and His Crew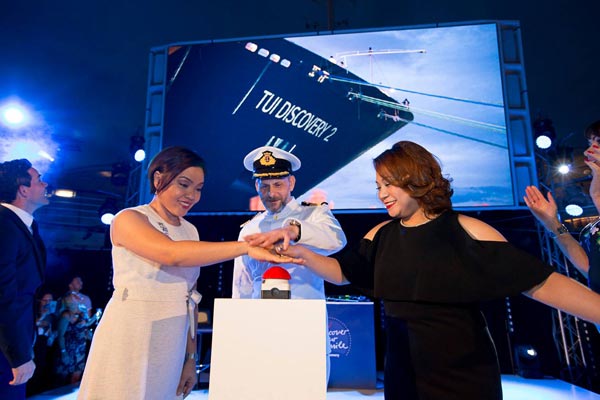 The British cruise line Thomson Cruises has welcomed to its fleet the latest cruise ship TUI Discovery 2. The christening ceremony was held in the Port of Malaga, which will also be a homeport of the vessel during the summer season. After complete refurbishment and rebranding at the shipyards in Cadiz, the former Royal Caribbean cruise ship Legend of the Seas reemerged as TUI Discovery 2.
The christening ceremony was held at the Cruise Terminal A, where the captain of the ship Jason Ikiadis, welcomed a delegation of representatives including Port Authority, Tourism Area of the city council of the capital, Tourism and Planning Costa del Sol, Ministry of Tourism and Sports of the Government of Andalusia, and Delegation of the Government in Malaga. During the meeting on board, the traditional exchange of commemorative plaques was held, with the participation of the entourage, as well as the captain of the ship and its crew.
Subsequently, Thomson Cruises proceeded to the christening of its new ship, with the godmothers Rechelle de la Vega and Cecily May who are members of the crew. They, together with the Captain Jason Ikaidis had the honors of breaking the champagne bottle. This is a rare occasion when the crew is given the honors to christen a cruise ship. Usually, cruise lines use celebrities for this ceremony to attract more PR. The event was broadcasted live to nearly 1,000 guests on board, among which were representatives, employees, and associates of the cruise company. TUI Discovery has 264 meters in length and a maximum capacity to accommodate 1,800 passengers.
I had a pleasure to meet and work with Captain Ikaidis when he was at the helm of Azamara Club Cruises cruise ship, Azamara Journey. He is one of the best captains not only in technical terms but also as a captain of his crew with a warm and friendly attitude towards the guests. I wish him calm seas and success at the helm of TUI Discovery. You are true captain of the ship and your crew.
Photo by: Thomson Cruises