Who are the biggest companies in the cruise retail Industry?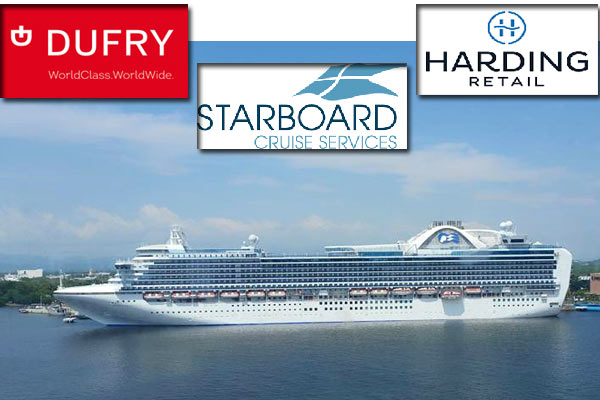 As the cruise industry continues to expand rapidly around the world the growth in the onboard cruise retail market is significant. This year just about every major cruise line will have a new ship with wide public and commercial spaces dedicated for retail shops. The biggest companies operating in cruise retail sector are Starboard Cruise Services, Harding Retail, and Dufry Ltd.
Starboard Cruise Services
With retail shops operating on 96 cruise ships, Starboard Cruise Services has firmly established as the largest and dominant cruise retailer in the world with the biggest share in the cruise retail market.
This year Starboard Cruise Services, which is part of LVMH Moët Hennessy Louis Vuitton, celebrated its 60th anniversary with the debut of its newest innovative retail concepts of exclusive shops and brands on the industry's newest and largest cruise ships, including Carnival Horizon, Royal Caribbean's Symphony of the Seas and Celebrity Edge. Other newly executed retail contracts have been signed with Norwegian Cruise Line to operate retail on three of their newer ships and a multi-year contract with Costa Cruises including the new Costa Smeralda launching in 2019 and Royal Caribbean's Spectrum of the Seas.
The company headquarters in Miami employs some 300 people handling merchandising, marketing, store planning and design, visual merchandising, human resources, IT, and finance. The onboard cruise retail team comprises 1,500 employees around the globe, including leadership teams in Europe and Asia. According to Moodie Report estimates, Starboard annual sales are worth close to US$850 million.
Starboard provides retail operations for ten leading cruise lines around the world, including Royal Caribbean International, Celebrity Cruises, Carnival Cruise Line, Costa Cruises, Norwegian Cruise line, Dream Cruises, SkySea Cruise Line, Crystal Cruises, Silversea and Holland America Line.
Harding Retail
With shops operating onboard 64 cruise ships Harding Retail is the second largest company in the cruise ship retail market.
In January 2018, Harding Retail announced the signing of an agreement to be a sole concessionaire for the new Virgin Voyage cruise line. Other ambitious projects include completion of arguably the most ambitious duty-free and travel retail fit-out on Marella Cruises' newest ship Marella Explorer. Part of that focus is a central travel retail shopping mall on Marella Explorer called Broad Street Shops, with retail space covering 420sq m showcasing over 30 new and exclusive key brands.
The premier onboard retailer Harding Retail portfolio includes over 250 shops on 64 cruise ships. With offices in Bristol, Miami and Sydney, they are a worldwide business that embodies all that is exciting in the world of international travel and leisure.
Harding Retail provides retail operations for twenty cruise lines around the world, including Azamara Club Cruises, Carnival Cruise Line, P&O, Cunard, P&O Australia, Seabourn, Fred Olsen, Royal Caribbean, Regent, Oceania, TUI, Viking, Thomson, Marella Cruises and Saga.
Dufry Ltd.
The world's biggest duty-free operator Dufry Ltd, which is well known in the global market including duty-free, duty-paid, brand boutiques, is swiftly conquering the cruise retail channel. 
Just one year ago Dufry has created 'Dufry Cruise Services' based in Miami and so far they have retail concessions on 27 cruise ships. In line with its strategy to further expand its presence in cruise ship retail, Dufry signed a new contract with Holland America Line to operate shops onboard eight ships, added another important contract with Norwegian Cruise Line to operate shops on the BLISS and signed an additional agreement with Carnival Cruise Line to operate shops on Carnival Inspiration. With these new contracts, Dufry will add close to 2,800 m2 of retail space, representing a major expansion and further supporting the growth and development of the cruise line channel.
Dufry Ltd provides retail operations the following cruise lines: Carnival Cruise Line, Norwegian Cruise Line, Holland America Line and Pullmantur Cruises.