Navigator of the Seas Earns Perfect 100 U.S.P.H. Points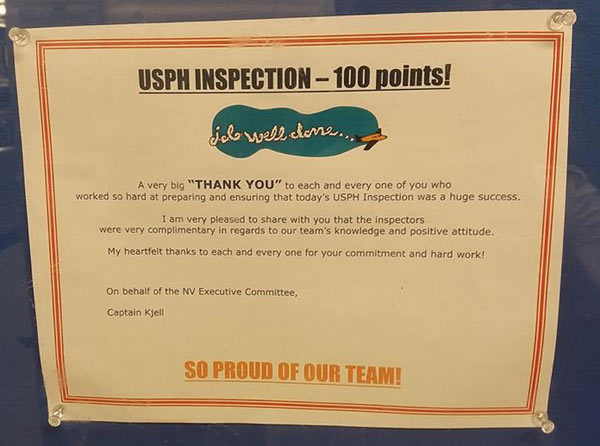 In a recent U.S.P.H. inspection conducted yesterday, December 3, 2017, the Royal Caribbean cruise ship, Navigator of the Seas earned perfect 100 points. The 142,000-ton cruise ship was returning from a 5-nights Caribbean voyage to its homeport Miami, Florida when the unannounced inspection took place. CDC inspectors boarded Navigator of the Seas and after several hours the vessel received a perfect score of 100 with compliments to all crew for their amazing and hard work.
All 1200 crew and staff members on board Navigator of the Seas have worked very hard, especially on the night before the turnaround, and they need to be recognized accordingly.
A thank you notice by Captain Kjell Nordmo was displayed in the crew area that reads: 
"Job well done crew. A very big "THANK YOU" to each and every one of you who worked so hard at preparing and ensuring that today's USPH Inspection was a huge success. I am very pleased to share with you that the inspectors were very complimentary in regards to our team's knowledge and positive attitude. My heartfelt thanks to each and every one for your commitment and hard work!
On behalf of the NV Executive Committee, Captain Kjell... So proud of our team."
In order for a cruise ship, to earn a 100 score, it needs to receive perfect marks on all 44 items that comprise the U.S.P.H.'s comprehensive Vessel Sanitation Program checklist. The unannounced inspections, which are conducted twice a year are required for any cruise ship with an international itinerary calling at United States ports.