Odyssey of the Seas moves 150 meters to make way for AIDA Cosma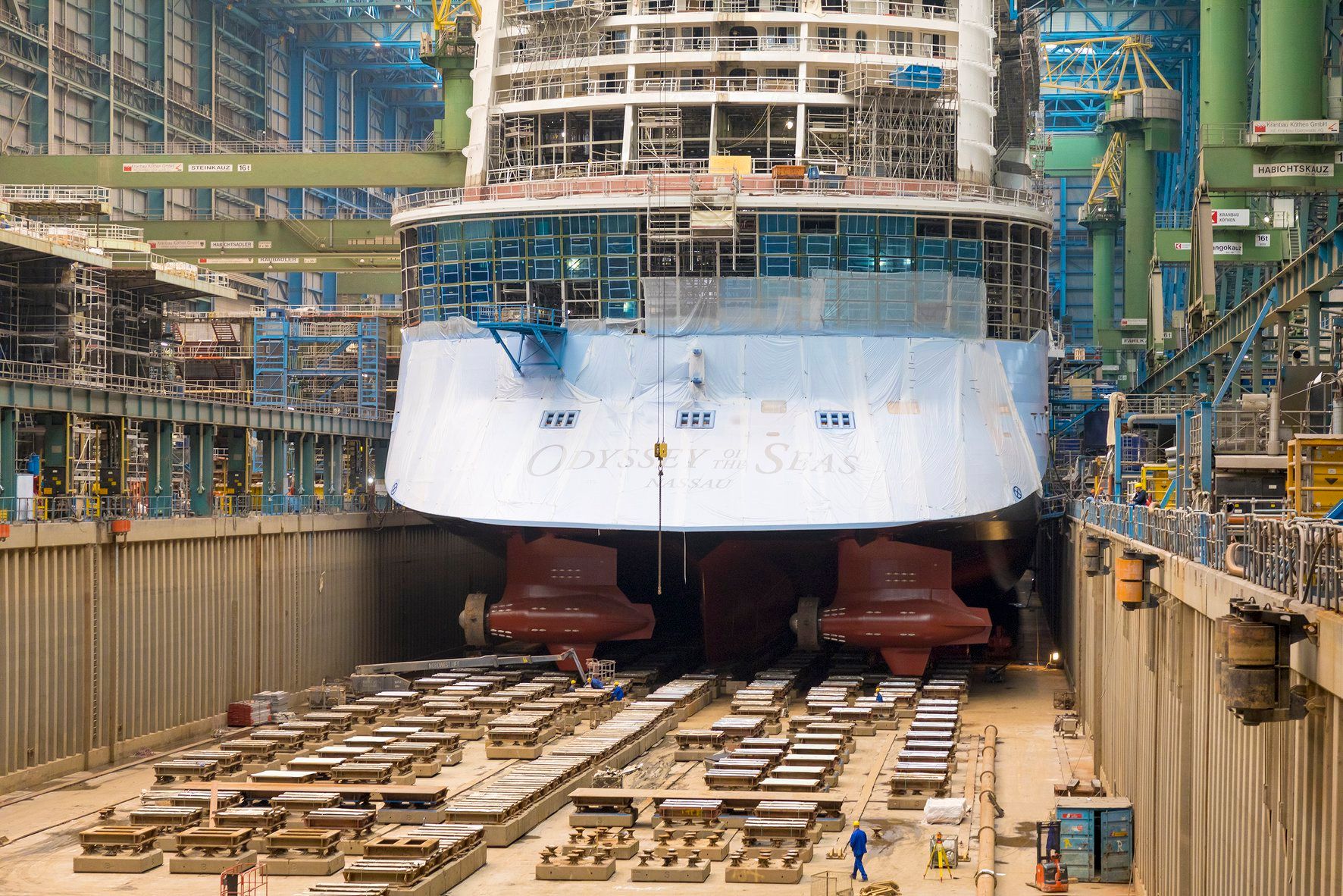 The German shipyard Meyer Werft has released a few photos from the construction site of Odyssey of the Seas at Papenburg that show the giant cruise ship was moved about 150 meters. Odyssey of the Seas is now positioned just in front of the gate in Hall 6 of the Meyer Werft shipyard. According to the shipbuilder, the reason for moving Odyssey of the Seas is to make space for the second ship in line for construction, Aida Cosma commissioned by the Carnival Corporation subsidiary brand Aida Cruises - originally scheduled to be delivered in May 2021.
"Royal Caribbean International Odyssey of the Seas has been successfully moved. She has traveled about 150 meters in the flooded construction dock and is now right in front of the big gate of the hall. This is where she will be further equipped. The positioning of Odyssey of the Seas is due to the planned construction process and creates space for the first construction phase of the subsequent cruise ship in the part of the Hall." Meyer Werft announced on its Facebook page.
Royal Caribbean announced the debut of the 4,200-passenger Odyssey of the Seas will be delayed from November 2020 to April 2021.  According to the company, letter to travel advisors "The health crisis has unfortunately impacted shipyard operations, as well as our supply chain. As a result, the debut of our newest fleet member, Odyssey of the Seas, will be delayed, resulting in the unfortunate cancellation of all sailings between November 5, 2020, and April 17, 2021."
There are various reasons for this delay, on the one hand, Meyer Werft wants to stretch its order book due to the coronavirus crisis, on the other hand there were two fires reported on board the Odyssey of the Seas during the construction. 
As for the following ship in line. AIDAcosma, the original delivery date in May 2021, is not yet confirmed. However from the regular updates by Meyer Werft you can see that there is significant progress made by the 
3500 shipyard employees in Papenburg. A few days ago, a large section of AIDAcosma was pushed out of the dock at Meyer Werft with the help of several tugs.
Photo Credit: Meyer Werft