5 Unusual Job Positions on Cruise Ship
Cruise ships are like a small city's with various jobs performed by the crew, staff and officers onboard. From hotel operations, entertainment, maintenance, navigation, this group of unique people keep the daily operations running. However there is a small group of professionals who have some of the most unusual job positions. Here are the five most unusual job positions you will find on some cruise ships:
Job positon: Lawnkeeper Cruise Line: Celebrity Cruises
Onboard Celebrity Cruises Solstice Class ships there is a job position, professional Lawnkeeper, responsible for maintaining 2,000 square meters of grass.  This includes the "Lawn Club", first real-grass lawn on cruise ship where guests can have picnic, play games or simply enjoy the view of the ocean. The Lawnkeeper is responsible for the maintenance, irrigation, mowing and seeding of the lawn area on the open deck. A challenge here is certainly the salt on open seas, which affects the appearance of the lawn. 
Job Position: Ice captain Cruise Line: Royal Caribbean International
On some Royal Caribbean cruise ships, there is ice rink where guests have the opportunity to skate or to watch one of the many ice-skating shows. The cruise line hires professional ice-skaters named Ice Captains. This professionals participate in the onboard shows and are responsible for the daily assistance of the guests at the ice rink.
Job Position: Dog Butler Cruise Line: Cunard Line
On board the Queen Mary 2 there is a butler for dogs. He takes care of the four-legged passengers, who are accommodated during the voyage in boxes, the so-called Kennels. He cleans the kennels, feeds the animals and walks the dogs on a daily basis. In addition the dog butler, is always available when human guests want to visit their pets. Queen Mary 2 is the only cruise ship to carry dogs and cats. The ship now has 24 onboard kennels.
Job Position: Brewmaster Cruise Line: AIDA
On board the German cruise ship Aidablu there is a small beer brewery on deck 10. Besides the Hövel's original, there is a AIDA unique beer named "AIDA Zwickel" brewed in two huge copper kettles by a professional brewmaster responsible for the beer quality.
Job Position: High Diver Cruise Line: Royal Caribbean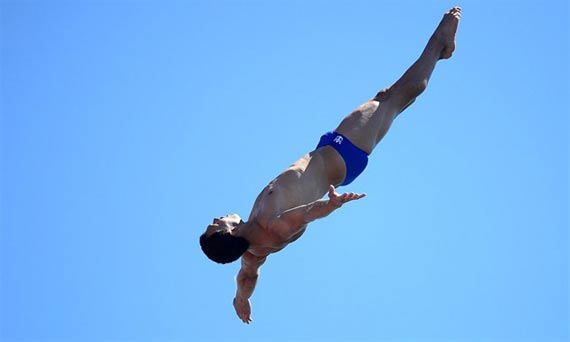 Some jobs aren't for the faint of heart, or those who are afraid of heights. But for the High Diver Michal Navratil is another day at work. Royal Caribbean High divers perform various shows in the Aquatheater, jumping from the 10-meter high dive platforms while the ship is sailing. The extreme sports Red Bull Cliff Diving champion Michal Navratil is among the best in the world and he is a Royal Caribbean star His performances in Aqua Cast thrilled all crew and guests with his aerial acrobatics in his dives from the highest platform onboard of 17.5 meters.
Photos curtesy of Aida Cruises, Cunard Line, Celebrity Cruises, Royal Caribbean.