AIDA Cruises Awarded Germany Top Employer for 2020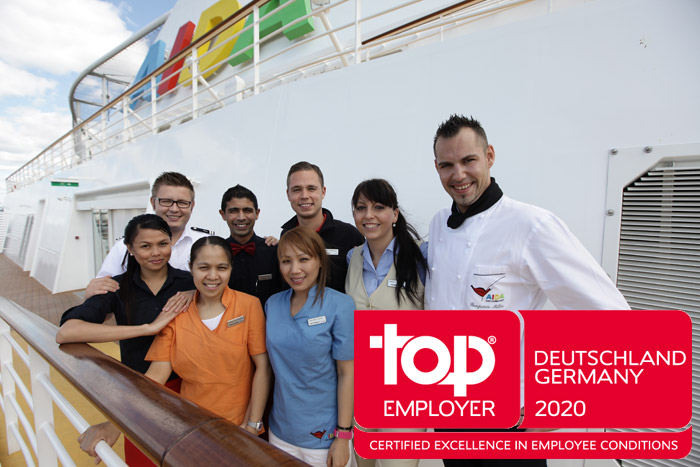 The cruise company AIDA Cruises was recognized by the Top Employers Institute as one of the top 20 employers in Germany. The international institute is one of the world's most prominent institutions for certification of outstanding employee conditions and annually selects the country's top employers in a comprehensive study.
"This award proves that we as a company enrich our employees' working environment with our dedicated personnel management," said Haike Witzke, Vice President Human Resources AIDA Cruises. "We offer a work environment in which the individual skills of the employees are valued and developed. We support our motivated employees in their personal career planning because they are the guarantee for successful operation."
Top Employers Institute comprehensive independent research has revealed that AIDA Cruises provides exceptional employee conditions, nurtures and develops talent throughout all levels of the organisation and has demonstrated its leadership status in the HR environment, always striving to optimize its employment practices and to develop its employees.
This year, the Top Employers Institute has identified and honored over 1600 top employers in 119 countries and regions on 5 continents.
AIDA Cruises offers attractive jobs for qualified and motivated workes and managers - regardless of whether they work on board one of Aida ships or work on land. The cruise company also opens up varied opportunities and prospects for career changers and young professionals. 
AIDA Cruises is the cruise industry market leader in Germany and currently employs around 15,000 people from more than 50 nations, 13,500 on board its 14 ships, and 1,500 at the company headquarters in Rostock and Hamburg.