Alaska cruise ports crew member's experience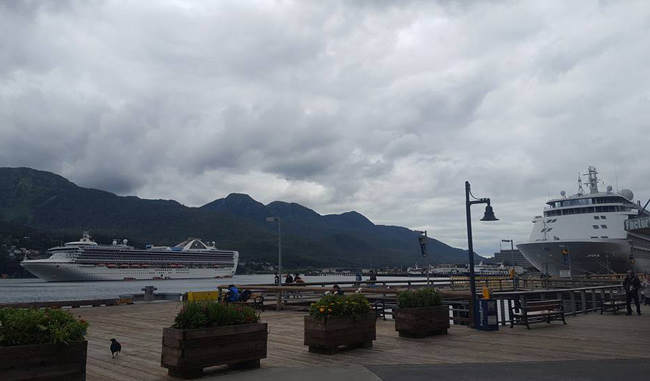 We passed through many cities on our way to Alaska. I went to Cabo Saint Lucas with Aleksandra my roommate, although we only had an hour and a half to be there. But no matter, it was just enough time for us to take some photos, buy hats and scarfs, have a Corona and go for a little dip in the water. We also met with a few people and had a chat with them.
The unforgettable Aruba which has the most amazing water and sea that I have ever seen. The sand looks smaller and it's like the water density is different compared to the Caribbean sea. It's hard to explain but it feels like the water is hugging you while you are swimming. More of us got off the ship there, about eight. We had about two hours to have some fun and so we did. 
There were a lot of beautiful moments but since my contract was coming to an end, I was more and more eager to go home. I had less and less patience for certain people and situations. Thankfully it all ended happily and in the best way. All the passengers gathered there when we approached the Glacier Bay National park, one of 58 American national parks. It is located in the south of Alaska and it got awarded a UNESCO heritage site in 1979. Glacier Bay is a formation made of ice and snow during the winter and it moves towards the bay. It creates the most amazing sculptures and forms in its path. The cruise goes in and around the national park. The Company hired rangers whose duties were to preserve the nature and wildlife for this particular occasion. 
Miss Nicole was in service for four years and Mr. Dan who was in service for thirty years. I had the chance to talk with them about the park's animal life and also to take a few photos. Nicole was happy to answer questions but I got the sense that she was more focused on what she would see through her binoculars. She noticed movement in the water just as I asked if I could take a look. 
It was a big reindeer that was swimming to the shores of the high mountains. I was so happy and thrilled to see that and she just said "I've been trying to catch a glimpse of a reindeer for years. 
This is your first time in Alaska and you've already spotted one. Maybe it's beginners luck so how about I take you everywhere with me, maybe we'll see a brown bear too". 
She took my hand and we spent the next half hour looking through the large ship windows, hoping to see some more animals. They spent the entire day with us, giving lectures and presenting their work. They laid out pictures of the different animals as well as fur and claw samples on the presentation table. There was a very strict time table on the board.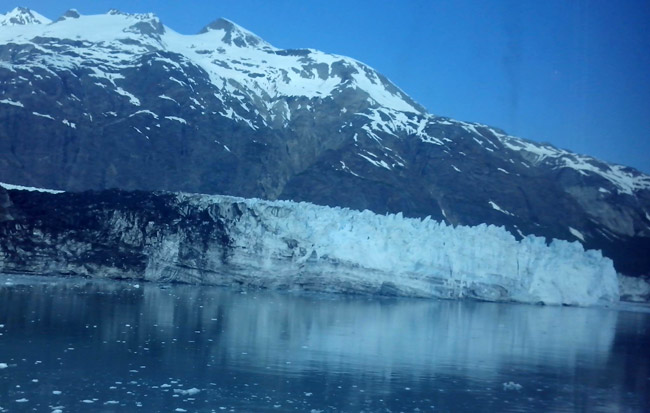 We went to the Margerie glacier and we had one hour to spend there, from 9.30 AM to 10.30 AM. Margerie is one of the biggest and widest glaciers, and the ship sailed about 500 meters away from it. 
The glacier looked like a massive ice wall in the bay, and it was an amazing photo attraction with all the beautiful colors. The air was cold and clear. This was one of those moments that can't really be described, you have to live it to believe it. 
At 11.15 AM we headed towards the next glacier called Lamplight. Later during the day we had some amazing presentations on the open deck and also in special rooms of the ship that were given to the rangers. 
The rangers left the ship at 7 PM, leaving us with amazing memories and knowledge about these sunning places. 
We moved on to Ketchikan, a city best known for the biggest number of totems. This was also the best city to do some shipping and to find the best burgers and local Craft beer. My favorite city was Juno, the capital of Alaska. Everything is close and convenient as soon as you step off the ship. The main street is full of bars and restaurants and little shops. I always went to the same restaurant called Imperial Saloon because it had great food and a great internet connection.
 I went there with the bartender form my bar called Sharon. We would have a great chat and I would just feel at home there. The next thing we did was the special Cable car tour. It's a ride north to the Juneau Raptor Center and the ticket costs 32 Dollars, but cruise ship crew members got a 50% discount.
It takes you to the Mount Roberts visitor center. There are camping like houses and they're full of material about the animal life – animal descriptions, videos, some crystals found in the area, etc. 
Everything is cute in a way and arranged to show you the beauty of Alaska. There are mountain trails where you could go for a walk in the forest, but you have to maintain the lines that are visible. This city was also famous for crab and fish dishes. 
The next city was Skagway. It's quite different from the others and it's known by the White Pass and Yukon Route rail tours. This is one of the things that I didn't have a chance to experience but I hope that I will one day. 
We ended our seven-day cruise in Whittier, the most northern point of our cruise through Alaska. It's a town with only 215 inhabitants who all live in one big building during winter. 
There is one hotel and one tavern in the town. We would go to the tavern in the evenings when we spent the night and we enjoyed the music and drinks there. 
Most people would think that this is quite boring but the Sun rises in that small town are some of the most beautiful that I have ever seen. Maybe I will just move to Alaska and stay there for the rest of my life.