Analysis: Costa Cruises Statistics by Ports 2017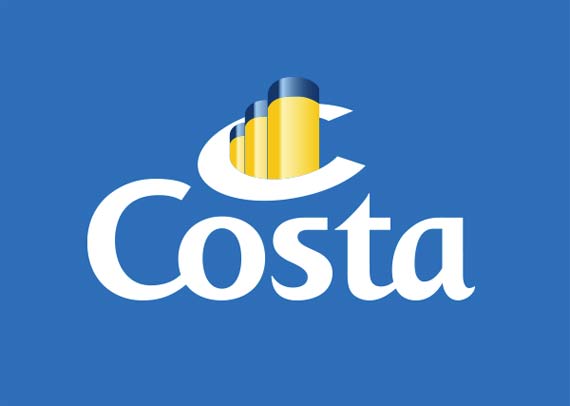 The following analysis shows how many cruise destinations will be visited by Costa Cruises entire fleet of cruise ships in 2017. Costa Cruises statistics shows how many ports will be visited and the top destinations by the cruise company. Please note, this is unofficial statistics created by the Crew Center team and is intended for informative use only. As a base for creating this analysis, cruise itineraries provided by a third party was used.
A grand total of 3269 port calls in 162 cruise destinations is expected by all Costa cruise ships in 2017. The entire fleet will spend a total of 600 days at sea. Most visited ports are Savona, Italy with 185 calls, Barcelona, Spain with 152 calls, Marseille, France with 144 calls, Civitavecchia (Rome), Italy with 98 calls, and Palma De Mallorca, Spain with 91 cruise arrivals.
Top 20 Most Visited Ports by Costa Cruises in 2017
| | |
| --- | --- |
| Port / Cruise Ship | Count of calls |
| Savona, Italy | 185 |
| Costa Deliziosa | 2 |
| Costa Diadema | 52 |
| Costa Fascinosa | 35 |
| Costa Favolosa | 23 |
| Costa Luminosa | 1 |
| Costa Magica | 11 |
| Costa Mediterranea | 23 |
| Costa neoRiviera | 18 |
| Costa Pacifica | 20 |
| Barcelona, Spain | 152 |
| Costa Deliziosa | 1 |
| Costa Diadema | 52 |
| Costa Fascinosa | 35 |
| Costa Favolosa | 22 |
| Costa Magica | 1 |
| Costa Mediterranea | 21 |
| Costa Pacifica | 20 |
| Marseille, France | 144 |
| Costa Deliziosa | 2 |
| Costa Diadema | 52 |
| Costa Fascinosa | 16 |
| Costa Favolosa | 22 |
| Costa Magica | 10 |
| Costa Mediterranea | 21 |
| Costa Pacifica | 21 |
| Civitavecchia (Rome), Italy | 98 |
| Costa Deliziosa | 1 |
| Costa Diadema | 52 |
| Costa Favolosa | 13 |
| Costa Luminosa | 2 |
| Costa Magica | 10 |
| Costa Mediterranea | 1 |
| Costa neoRiviera | 1 |
| Costa Pacifica | 18 |
| Palma De Mallorca, Spain | 91 |
| Costa Diadema | 49 |
| Costa Fascinosa | 18 |
| Costa Favolosa | 5 |
| Costa Mediterranea | 1 |
| Costa neoRiviera | 18 |
| Venice, Italy | 75 |
| Costa Deliziosa | 34 |
| Costa Luminosa | 36 |
| Costa neoClassica | 5 |
| Dubrovnik, Croatia | 74 |
| Costa Deliziosa | 34 |
| Costa Luminosa | 35 |
| Costa neoClassica | 5 |
| Corfu, Greece | 73 |
| Costa Deliziosa | 34 |
| Costa Luminosa | 35 |
| Costa neoClassica | 4 |
| Naples, Italy | 45 |
| Costa Deliziosa | 1 |
| Costa Fascinosa | 33 |
| Costa Mediterranea | 11 |
| Dubai, United Arab Emirates | 45 |
| Costa Luminosa | 1 |
| Costa Mediterranea | 10 |
| Costa neoRiviera | 34 |
| Palermo, Sicily | 44 |
| Costa Fascinosa | 33 |
| Costa Mediterranea | 11 |
| Piraeus (Athens), Greece | 39 |
| Costa Deliziosa | 16 |
| Costa Luminosa | 18 |
| Costa neoClassica | 4 |
| Costa neoRiviera | 1 |
| Ibiza, Spain | 38 |
| Costa Fascinosa | 18 |
| Costa Favolosa | 1 |
| Costa neoRiviera | 18 |
| Costa Pacifica | 1 |
| Bari, Italy | 37 |
| Costa Deliziosa | 33 |
| Costa neoClassica | 4 |
| Katakolon (Olympia), Greece | 37 |
| Costa Luminosa | 36 |
| Costa neoRiviera | 1 |
| Santorini, Greece | 37 |
| Costa Deliziosa | 33 |
| Costa neoClassica | 4 |
| Cagliari, Sardinia | 36 |
| Costa Diadema | 19 |
| Costa Pacifica | 17 |
| Trieste, Italy | 36 |
| Costa Luminosa | 36 |
| Mykonos, Greece | 34 |
| Costa Deliziosa | 17 |
| Costa Luminosa | 17 |
| Tarragona, Spain | 34 |
| Costa neoRiviera | 34 |