Baptizing of the first LNG Cruise Ship Aidanova with DJ David Guetta Concert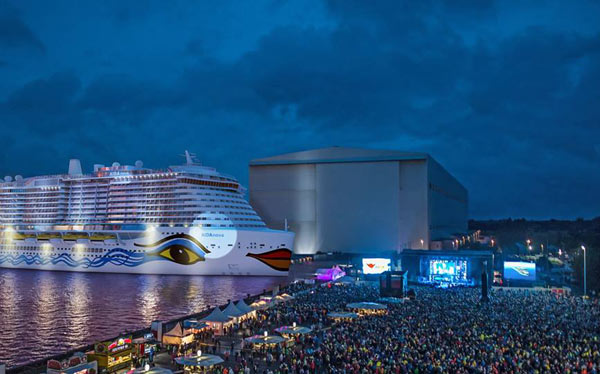 This evening the first ever LNG powered cruise ship named Aidanova will be baptized in Papenburg, Germany. The organizers expect some 25,000 visitors to attend the ceremony at the Meyer Werft site. After the christening, a two-day open-air concert will take place from 9.30 pm. Star guest of the first evening is the French DJ David Guetta. The following day Papenburg Music Festival will kick in, with James Blunt and Sarah Connor among others to be seen and heard on stage. All in all, up to 50,000 music fans will make their way to Papenburg this weekend, in front of the backdrop of " AIDAnova".
As support, the Dutch DJ duo "Deepend" and the French DJ "Hugel" play. David Guetta is one of the most famous DJs worldwide. For his performances, he can certainly demand fees in five-digit amount. In 2016, he took third place on the "Forbes" list of the highest paid DJs in the world. Only in one year, he should, therefore, have taken 28 million US dollars. In 2016 he lined up at the opening of the European Football Championship in Paris. The 50-year-old has already won numerous awards, including several Grammys and the Echo.
The LNG ship is being built by Meyer Werft in Papenburg, Lower Saxony. On the grounds of the shipyard also the baptism takes place from 21.30 clock. Liquefied petroleum gas is considered to be a greener propulsion system than diesel or heavy fuel oil. Aida, the market leader for cruises in Germany, has so far commissioned three LNG ships at Meyer and is investing more than three billion euros in the expansion of its fleet.