Boy in critical condition after nearly drowns on Anthem of the Seas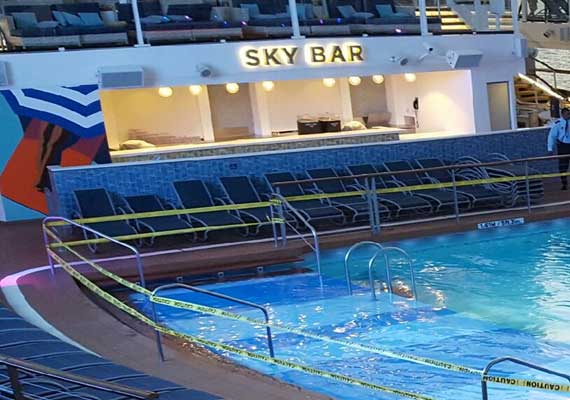 An 8-year-old boy is in critical condition after nearly drowning on Royal Caribbean Anthem of the Seas. The terrible accident happened on Thursday, just two hours after the cruise ship departed from its homeport Bayonne, N.J. The boy fell into a pool and remained in the water for eight minutes before being discovered by crew members. Ships medical staff quickly responded to the scene and performed CPR establishing a pulse.
After notifying the Coast Guard the captain turned back the ship to Bayonne. FDNY officials confirmed that the boy was med evacuated by helicopter from Anthem of the Seas four miles off of Sandy Hook, and transferred to Staten Island University Hospital.
Royal Caribbean on their RCLcorp Twitter account said "We are assisting family of 8 year old boy sailing on Anthem of the Seas who had an accident in one of the ship pool.  Boy needed medical attention, so the ship sailed back to Bayonne. He is currently being treated at the hospital. "
Anthem arrived back to Bayonne at 12:30 a.m. with relatives of the boy disembarking off the ship and getting on a bus that was waiting for them. The ship departed on Friday morning at 2:15 a.m. sailing back towards its scheduled nine-day cruise to Bermuda, St. Martin, Puerto Rico and Haiti.