Carnival Cruise Line Breaks Ground on New Cruise Port on Grand Bahama Island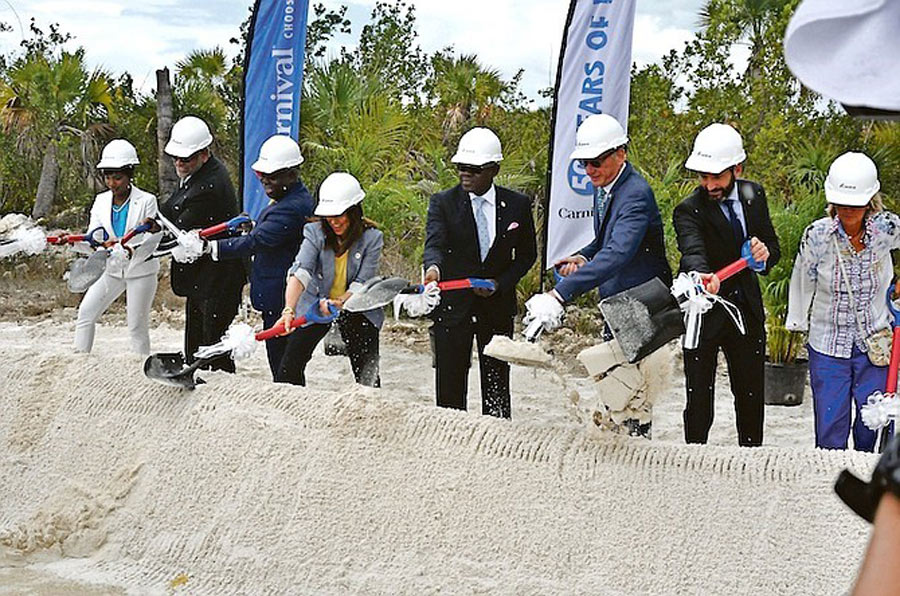 On May 12, 2022 Carnival Cruise Line held a groundbreaking ceremony of the new project worth $200 million at Freeport, Grand Bahamas which officials anticipate will bring additional value to the economy of the Bahamian nation's second city.  
"With the start of this Carnival project, Grand Bahama is now on the better side of reaching its true economic potential," said the Hon. Philip Davis, Prime Minister of The Bahamas, while speaking at the ceremony. "This investment will provide much needed jobs but will also signal new hope for the island's recovery."
Honorable Chester Cooper, Deputy Prime Minister of the Bahamas and Minister of Tourism, Investment and Aviation saw the new project as a uprising that will soon become the out-turn on the island of Grand Bahamas'. 
"We believe the excitement of what is happening on Grand Bahama will be contagious," he said. "The cruise port is an integral part of our plan to restore Grand Bahama to economic viability," said Minister Cooper. "Carnival will play a critical role in stimulating our economy and shining a light on Grand Bahama as a rejuvenated and premier destination in our country and the region."
The creation of Carnival's Grand Bahama Cruise Port is estimated to be completed in November 2024. Once completed, the new cruise port will be able to take in the largest cruise ships in Carnival's fleet. The Excel class cruise ships such as Carnival's 5,282-passenger Mardi Gras vessel, Celebration which will set sail later this year, and Jubilee which will make its maiden voyage in 2023.
Among those who attended the laying of the foundations were Ginger Mokei, Minister for the Great Bahamas, and Sarah St. George, Acting President of the Port of Grand Bahama.
Said Minister Moxey, "The Carnival groundbreaking is significant to the residents of Grand Bahama. This development signals opportunities for creatives, vendors, and small and medium sized businesses, and represents our commitment to collaboration with local and international partners for the betterment of our island."
Last March, the carnival marked 50 years of transporting guests to the Bahamas. This new setup, according to Christine Duffy, president, of the Carnival Cruise Line is another example of Carnival's ongoing partnership with the Bahamas.
"As we celebrate our 50-year partnership with The Bahamas, today's groundbreaking on our incredible new Grand Bahama destination represents an opportunity to collaborate with the government and people of Grand Bahama – to contribute to the local economy through job and business opportunities, and further expand our experience offerings for our guests who will have a breathtaking new port of call to enjoy," said Duffy.
Currently, Carnival Corporation manages Princess Cays near Eleuthera Island and Half Moon Cay, in Little San Salvador.