Carnival Cruise Line Introduces New Crew Internet Plans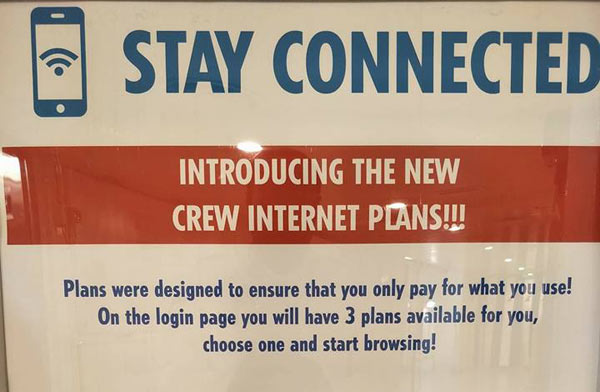 Carnival Cruise Line has introduced new internet prices for crew members on their latest cruise ship Carnival Horizon. Unlike previous plans where Carnival crew was charged per minute, the new plans include charges by Megabyte. The good news is that the new prices are lower than the old ones. Now the crew will have an option purchase $5, $10 or $40 internet card with prices ranging from 10, 9 and 6 cents per MB.
According to the announcement, plans were designed to ensure that crew members only pay for what they use. On the login, page crew has 3 plans available and after choosing one they can browse the internet. The new plans also include Happy Hour, meaning that crew will pay less when using the net during off-peak hours. One good feature is that there will be no more wasted minutes. This was a big problem with the old packages, especially with the "One-hour continuous access $7 package" which crew members needed to use it at once otherwise their minutes were gone.
The new packages look far better however we do hope that in near future the prices will go lower considering the fact that other cruise lines such as Cunard, Holland America Line, and MSC offer even lower crew internet prices. It needs to be mentioned that Viking Ocean Cruises is the only cruise line that offers free unlimited internet access for the crew.
Back in March, we did a price comparison on internet packages for crew on several cruise lines - you can find out more about this topic here.
Photo Credit: Cruise Ship Crew Life