Carnival Cruise Ship Loses Anchor near San Juan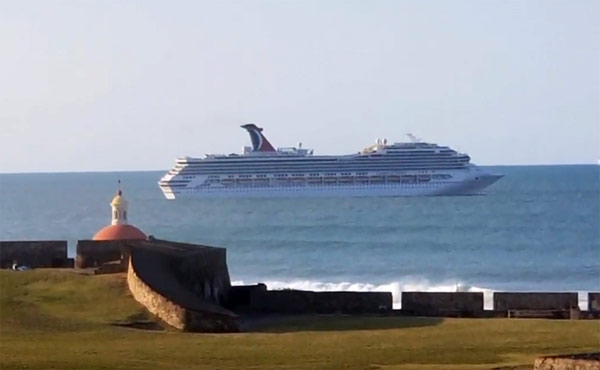 Carnival Glory was stranded for several hours outside the port of San Juan, Puerto Rico due to mechanical damage of one of its anchors. The ship's anchor mechanism was activated for unexplained reasons and released around 200 feet of chain while the vessel was almost a mile from the port. Ships officers tried to retrieve the starboard anchor but without success, because it was stuck at the seabed. Coast Guard in San Juan, responded to the scene sending two tug boats to assist the ship. After 4 hours the crew managed to cut the chain and the ship continued its journey. The accident was first reported by Cruise Law News where you can see a video from the stranded ship.
The popular cruise portal Crucero Adicto has also released a video showing Carnival Glory at the standstill.
Coordinates of the lost anchor were marked, and Carnival Cruise Line will be responsible for removing the anchor. This incident did not prevent traffic in the bay, but there were instructions to not enter and leave ships until the Carnival moved and marked the area.
Carnival Cruise Line will file an accident report to the US Coast Guard why the anchor was released. Until now the company didn't release any statement. The only short comment was by John Heald, Brand ambassador for Carnival Cruise Lines, saying "There was a technical concern yesterday but ship is on her way to Grand Turk as scheduled so all is well."
[ACTUALIZACIÓN] Carnival Glory continúa con su viaje luego de estar varias horas varado a las afueras del puerto de San Juan por desperfectos mecánicos con su ancla pic.twitter.com/zh76xDfWZa

— Noticias 24/7 (@noticias247pr) March 8, 2018