Carnival Liberty Chefs Create Largest Hamburger at Sea.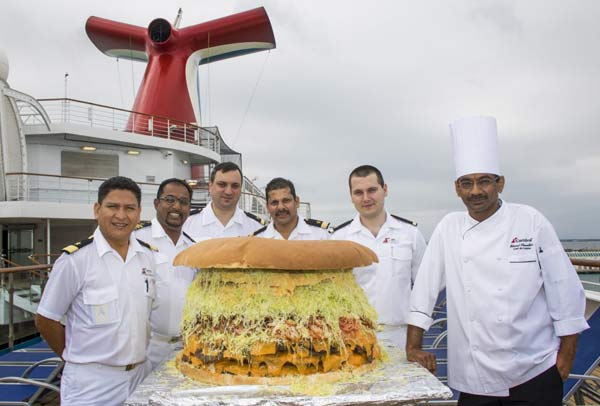 Celebrating National Hamburger Day, Carnival Cruise Line created the largest hamburger at sea onboard the cruise ship Carnival Liberty. The massive 300 pound Guy's Burger was presented while the vessel was docked at Port Canaveral. Chef de Cuisine explained that the giant three-and-a-half-foot-wide hamburger consists of 200 pounds of meat, 50 pounds of cheese and toppings, as well as 50 pounds of flour to make the bun.
This hamburger was created after the recipe of Guy's Burger Joint, a casual poolside eatery which is currently featured aboard 14 Carnival ships. It's estimated that 1,000 burgers are served per day on each ship – all free of charge. That's more than 5 million burgers a year served on all Carnival cruise ships. 
The event included a fun burger-making workshop for the media who learned the secrets to creating the delectable hand-crafted hamburgers.  Participants donned Guy's Burger Joint's signature hats and went behind the grill where they got the first-hand experience creating Guy's famous burgers.
Source & photos: carnival.com