Carnival Triumph Evacuated After Small Fire Onboard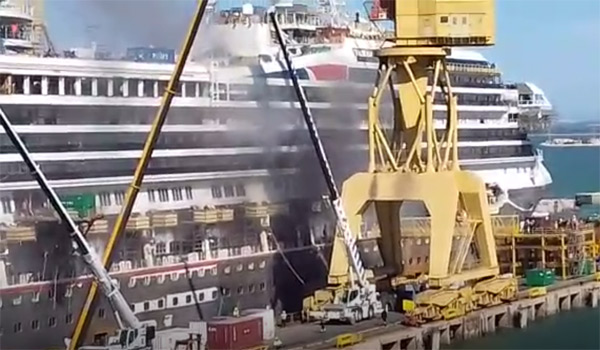 A fire broke out today March 21, 2019, aboard the cruise ship Carnival Triumph during the dry dock refurbishment in Cadiz, Spain. According to the reports hundreds of workers who were inside the ship were evacuated after a small fire broke out on deck 4 of the bow-starboard side. The fire started in the early afternoon when welding works were being carried out. Navantia shipyard fire crews responded to the emergency and put down the fire. No major damage was reported on the site with only minor material impacted. Navantia Shipyard says that this incident will not delay the work schedule. There are no reported injuries, although the fire was very striking, due to the nature of the highly combustible materials, there was a very dense black smoke.
La Voz Digitaln shared the following short video of the evacuation.
Carnival Triumph arrived in Cadiz on March 12 to undergo a comprehensive modernization including the installation of two large structures to house new cabins. The transformation of Carnival Triumph in Cadiz is costing the company $200 million and it is the largest dry dock Carnival Cruise Line has done since Carnival Destiny was transformed into Carnival Sunshine in 2013.
Once complete Carnival Triumph will be renamed Carnival Sunrise and the vessel will sail back across the Atlantic sailing four to five-day itineraries from Norfolk, Virginia.