Construction Starts on the 2nd Vista-Class Cruise Ship Built in China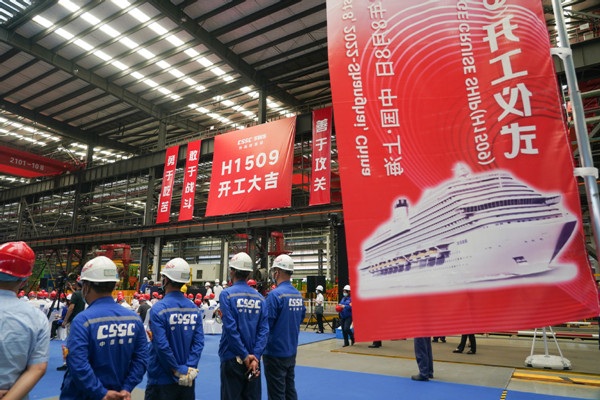 Construction of the second Vista Class cruise ship exclusively adapted for the Chinese market started in Shanghai. The vessel is scheduled to enter service in 2024 for the Chinese Carnival joint venture CSSC Carnival Cruise Shipping Ltd. 
The steel construction of the first new-build cruise ship has already been completed , and It is scheduled to enter service in 2023. 
The redesigned Vista Class cruise ships will have a length of 341 meters and a gross tonnage of 142,000 tons. They should have space for up to 5232 passengers. This makes them slightly larger than their sister ships in Europe and America. 
With the Carnival Vista, Carnival Horizon and Carnival Panorama, the three Vista Class cruise ships are already sailing for Carnival Cruise Line in America. Two more ships of this class were originally ordered for Costa Asia. Currently, however, the Costa Venezia and the Costa Firenze are underway for Costa in the Mediterranean because cruises in Asia are hardly feasible.
For the first time, the two Vista Class ships for China will not be built at the Italian Fincantieri shipyard, but at Shanghai Waigaoqiao Shipbuilding. The shipyard has so far mostly completed tankers and container ships. The Fincantieri shipyard supports the construction of cruise ships with its expertise. Cruise ships for the Asian market have so far mostly been built in Europe. In China, there is great potential in the construction of cruise ships, which is why the industry is being promoted. 
There are currently hardly any cruise ships on the Chinese cruise market. The strict COVID policy by the Chinese authorities has brought cruises to a standstill since 2020. Due to tough local lockdowns and strict controls on travelers within China, tourism is almost impossible. If the corona situation there improves again, then China will be one of the largest markets for cruises. 
The Carnival Corporation already wanted to serve the Chinese market before the Corona Pandemic. For this purpose, Costa Atlantica and Costa Mediterranea were transferred to China. Both ships are currently unused and saty idle off the coast in Cyprus. The CSSC Carnival fleet is to be supplemented by the two Vista Class newbuilds from Shanghai. In addition, the construction of a second cruise ship has now begun. If the Chinese cruise market picks up speed again, further new buildings are conceivable.