Cordelia Cruises to start voyages in May 2021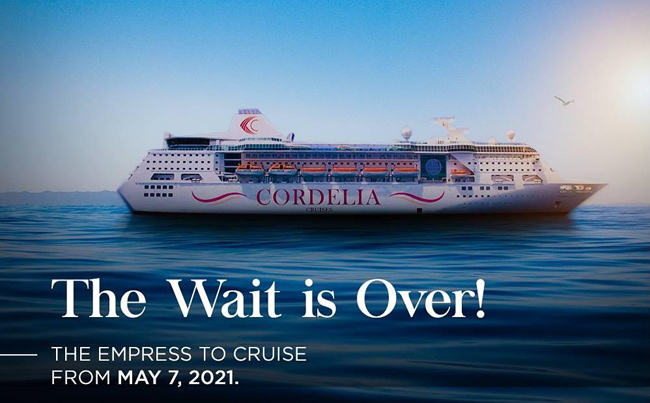 The new Indian start-up company, Cordelia Cruises plans to set sail in May 2021, with short coastal voyages on board the recently purchased Royal Caribbean cruise ship Empress of the Seas. 
According to the company website, the cruise ship will sail the inaugural voyage for Cordelia Cruises on May 7th, from Mumbai, India. This will be a 3-night roundtrip cruise with a stop in Goa. The company also offers a variety of combined itineraries ranging from two to seven nights, with calls to Chennai, Colombo, Male, Goa and Mumbai. The former Empress of the Seas was renamed and will sail as the Empress.
Recently Cordelia Cruises was very active on social media, promoting the Empress as "a city on the sea" which offers an authentic Indian experience. For now, the promotional videos and photos on the company website and FB page show only the rendering images of the Empress with a large "Cordelia Cruises" logo on its hull. However, we have not yet seen any recent photos of the actual ship, as well as information about where the Empress was refurbished.
Behind Cordelia is Waterways Leisure Tourism, an Indian-registered company that recently acquired the Jalesh Cruises brand name which operated the former cruise ship Karnika. Cordelia Cruises positions itself as India's premium cruise liner. The company aspires to promote and drive the cruise culture in India through experiences that are stylish, luxurious, and most importantly, inherently Indian.