Costa Cruises awarded "Top Employer in Italy"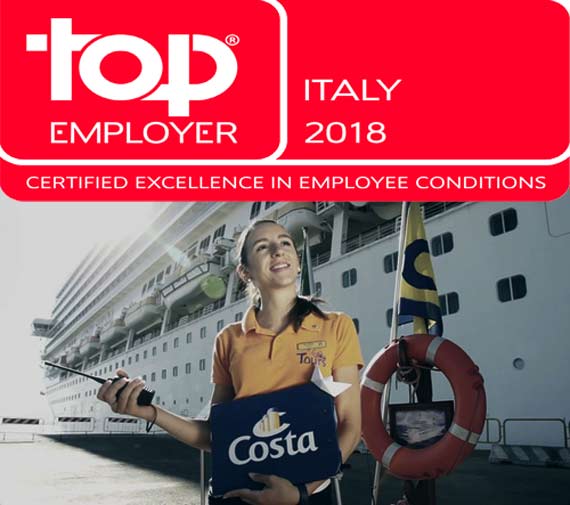 Costa Cruises was named "Top Employer in Italy" for the fifth consecutive year, recognized as one of the best Italian companies to work for. The Italian Cruise Line was awarded this prestigious Top Employers Italy 2018 certificate by the Top Employers Institute.
The annual research conducted by Top Employers Institute certifies the best companies around the world. The independent research revealed that Costa Crociere provides exceptional employee conditions, nurtures and develops talent throughout all levels of the organization and has demonstrated its leadership status in the HR environment, always striving to optimize its employment practices and to develop its employees. Costa Crociere has reached levels of excellence in the following areas:
Costa Cruises employs young and international staff all over the world, coming from 70 different countries made up of over 19,000 employees, of which about 18 thousand are employed on the 15 cruise ships in service and about 1,000 in the ground offices. 
In 2017 Costa Crociere provided approximately 850 thousand hours of training to its employees and took over 3,500 new resources.
During the year, very innovative projects have been implemented, such as smart working for those working in the offices or the launch of the new Accademia Ospitalità Italiana Crociere courses, the first academy in Italy dedicated to the highly qualified training of hotel professionals for cruise ships,
Antonella Varbaro, Costa Campus Director of Costa Crociere said: "In a sector as competitive and dynamic as that of cruises, human resources are the element that really makes the difference and allows us to reach the highest levels of satisfaction of our guests. This is why we aim to continuously improve our training and development policies, and our staff management strategies. The Top Employers certification, which we obtained for the fifth year in a row, as well as a source of pride, is a guarantee of the excellence of the working conditions we offer ".