Crew Member dies on Marella Dream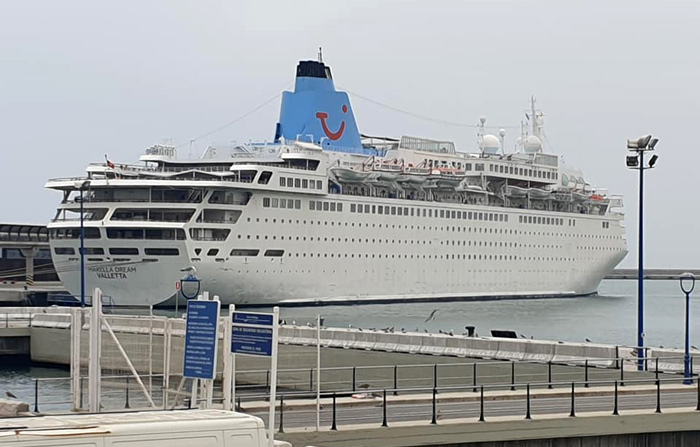 We are deeply saddened to report that a 48-year-old Indonesian crew member who worked on the cruise ship Marella Dream has died on Friday, March 27, while the vessel was off the coast of Gibraltar. The ship's captain in coordination with the port authorities requested evacuation of the crew member who needed urgent medical treatment on Thursday; however, it was decided that the patient will be evacuated on Friday at around 07:30 am. Sadly his condition worsened overnight and 3 hours before the planned medical evacuation he passed away. The daily newspaper Gibraltar Chronicle, reports that the crew member had displayed symptoms consistent with Covid-19, but was not tested for the virus. 
During a press conference Gibraltar Chief Minister, Fabian Picardo, reported "We are advised that if this is a Covid-19 case there may well be others on board infected with the virus. Therefore, acting on public health advice, we will not be allowing the body to be disembarked and will be asking the vessel to leave British Gibraltar territorial waters."
The crew member's body was disembarked in the Spanish port of Malaga on Saturday. The chilling image of health workers taking out the coffin of the deceased crew member from the vessel and placing it in a vehicle parked next to Marella Dream was recorded by several crew members of the cruise ship Pullmantur Sovereign docked alongside. These videos will not be published here at this time.
The Gibraltar Chronicle has contacted with spokesperson for Marella Cruises, who reported
"Sadly the crew member passed away before the ship arrived. We are working closely with the relevant authorities and would like to express our thoughts to his friends and family at this time. The crew member had underlying health issues and had not tested positive for Covid-19 and there are no positive cases of Covid-19 on board the ship. The health and safety of our customers and crew remains our highest priority and instances like this are extremely rare."
Crew center would like to express deepest condolences to the crew member's family, friends, colleagues and loved ones. There are no words to express the sadness of losing one of our own crew members.