Crew member killed in gas explosion on Emerald Princess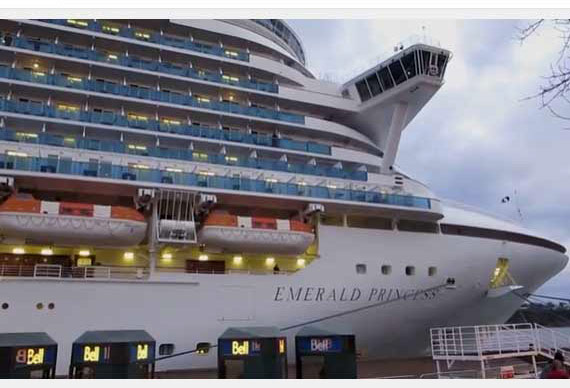 A crew member of the cruise ship Emerald Princess passed away in an explosion of a nitrogen cylinder while the ship was at Port Chalmers, the main port of Dunedin, New Zealand. According to preliminary reports, the accident occurred in the afternoon during maintenance work on the hydraulic system for launching the tender boat. Local residents say that the explosion was so loud that it was heard 2 kilometers from the port. The force of the blast launched the cylinder off the ship and down to the pier. Otago Coastal area commander added that the deceased was a man and that there are no injured passengers or crew. A passenger on board shared the following photo where you can see the tube lying on the wharf next to Emerald Princess.
Gas cylinder explodes on #emeraldprincess #cruise killing one crew member in #Dunedin #NZ @dailynznews pic.twitter.com/BcXQDPdeLQ

— Sr Edna Welthorpe (@Edna_Welthorpe) February 9, 2017
The cruise company didn't release the identity of the deceased crew member and said that they have contacted his family. Carnival Australia Corporate communications manager, David Jones, said: "We are deeply saddened that a member of Emerald Princess' crew was fatally injured in the incident Carnival Australia is working closely with police and other authorities and assisting in their response and inquiries." There are no obvious signs of damage from the explosion on Emerald Princess. The vessel was scheduled to depart at 6 pm, but had been delayed as passengers returning from excursions were kept back from the pier. Carnival Australia representative said the ship would not depart until it was cleared to do so by Dunedin authorities.
Our thoughts and prayers are with crew member's family and all Emerald Princess colleagues who lost a dear friend.
Update
Police authorities announced that "The crewmember who died is a Filipino man and police are working with the cruise liner to support his family at this sad time."
The ship's captain delivered the sad news to passengers in a message through the intercom. "I repeat my earlier announcement for those of you who didn't hear my announcement, as I know quite a few of you were ashore as we had a tragic incident occur this afternoon at approximately 17:10. One of my crew members was filling a nitrogen gas bottle ... and unfortunately one of the cylinders exploded, tragically killing the crew member."