Crew Member Reportedly Commits Suicide on Carnival Breeze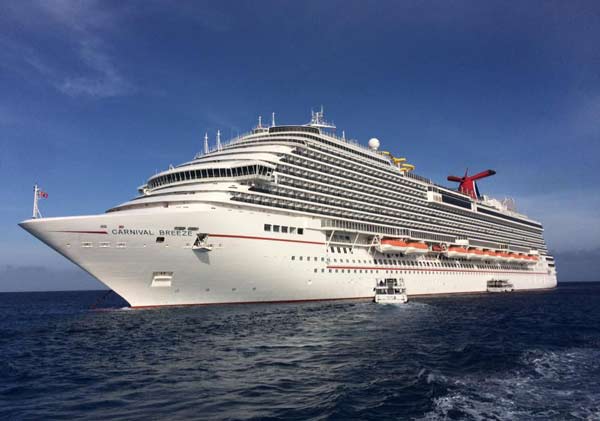 A team member on Carnival Cruise Line ship reportedly took his own life today during his final voyage before the repatriation back to his home country. The 29-year-old crew member from Hungary was found dead in his cabin on the cruise ship Carnival Breeze. He had been working as a shore excursion assistant manager for Carnival for the past 3 years. This tragic event was reported by several crew members on board who were shocked because everything seemed to be normal with their fellow crew member.
One crew member says "His sail and sign in card was checked and was last used on Wednesday. That was the last time he was seen and that somebody talked with him, and he seemed to be normal. Just the regular quarantine conversations."
"Hungarian crew member on board the Carnival Breeze unfortunately has committed suicide. Depression is striking hard to us on board after a long period of time in isolation on the ships." says another crew member.
According to a message we received from a crew member, an announcement was made on board Carnival Breeze by the captain confirming the sad news. "People are in a bad mood which is normal but still we are trying to be positive and looking forward to go home. Also, they said that they informed the family which was the most important and the company is providing care for crew through hotline and on board with HRD as captain just said on PA." says the crew member.
Another crew member on Carnival Breeze expressed her unhappiness regarding the lack of communication and all the transfers and delays during the final repatriation process of the crew.
"I'm currently on CCL Breeze, originally assigned on Dream by the moment company decided on April 17th to send us on bus trip from Galveston to Port Canaveral...it was 32 hours long process in not really great conditions. Once we arrived in Port Canaveral we embarked CCL Magic where we found out that on May 2 we have to move by tender on Breeze. Right now first of TM hang himself, no one is offering any conversation, Human Recourse, Department Heads no one is saying anything, announced nothing. Stories are floating around. We are living in dark, there is no information when we gonna get to the UK and how we gonna proceed from there to our homes.I have to find out from the article news that there is a possibility that we have to transfer back on CCL Magic and proceed to Greece to get home. This has been a month of horrible decisions and a lack of communication from Carnival. This affects, even maybe for people who live on land doesn't look too much for us is devastating. This life is not easy, and coming across and listening to people commenting on how we should be thankful it's just irritating-because if you haven't been on board you will never understand!"
Carnival Breeze together with Carnival Magic are on a mission to return the European crew members back home. The two ships are currently sailing across the Atlantic Ocean and are scheduled to arrive in Europe in the following days in order to repatriate crew members.
The loss of a friend and colleague is an extremely difficult experience, and we are all affected by this terrible tragedy especially knowing that the crew member was only days apart before reuniting with his family and loved ones.
Rest in Peace mate, and our deepest condolences to his family and friends.