Crew Story: A different perspective on quarantine and the positive side of potential changes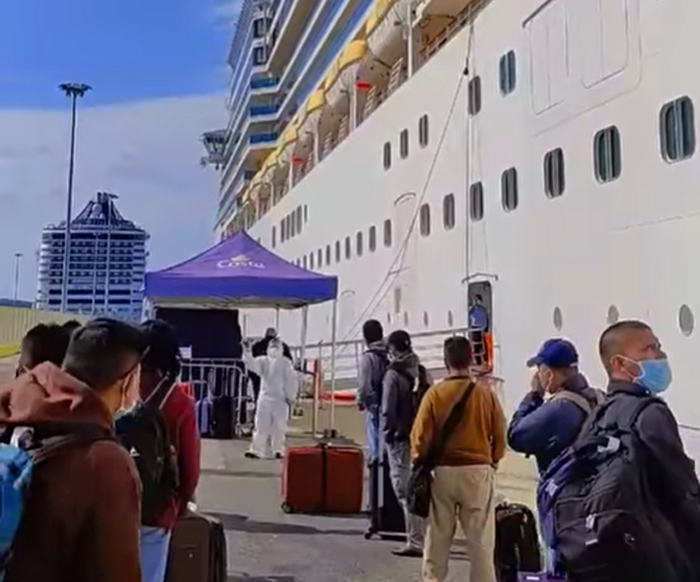 Nowadays, working on a cruise ship next to a COVID-19 situation is not easy. Various measures have been introduced and again there is the fear of what happens if you get COVID-19 on a cruise ship.
Health and Safety Measures 
It is necessary before boarding the ship:
• Get fully vaccinated against COVID-19.
During work and stay on board:
• Wear a mask to cover your nose and mouth when outside your cabin and in public places. The use of masks is important to slow the spread of COVID-19.
•Avoid close contact with anyone who is sick.
•Avoid touching your eyes, nose, or mouth with unwashed hands.
• Wash your hands often with soap and water for at least 20 seconds. If soap and water are not available, use a hand sanitizer that contains at least 60% alcohol. Proper hand hygiene is an important measure to protect yourself and prevent the spread of disease.
• Participate in daily temperature checks on board, if necessary, and monitor your health for symptoms of COVID-19.
• Testing for COVID-19 is an important way to protect yourself and your fellow crew members.
• If you feel ill, stay in your stateroom and notify your ship's medical staff, your supervisor, or your captain, so that proper precautions can be taken for you and other crew members on board.
• Follow isolation and quarantine protocols when directed by medical personnel. Know your vessel's protocols in case you or someone else on board becomes ill.
• Take care of your emotional and mental health and make adequate sleep a priority.
Providing high-quality hotel services on land is relatively easy, but providing them on board cruise ships sailing to multiple destinations and remote regions of the world is much more challenging.
In addition to all this stress, fatigue, and food without enough vitamins, minerals, and protein can quickly affect a decline in immunity and contracting COVID-19.
While all of this sounds bleak and it is almost 90% true that you can get infected at least once during your long contract without a day off, imagine you are positive for COVID-19.
Crew Members' experience
This story happened on a passenger yacht with 400 passengers and about 200 crew members. From the moment the medical team finds out that you are positive, you pack your bags and move to the passenger cabin, which is usually deck 5 or the first deck with cabins. The passenger cabin is bigger than yours and you have a balcony, you get medicine and every day they bring you 3 meals in front of your door.
The cruise line in this way isolates sick crew members and saves others from infection, which is very kind and conscientious of them. The crew member who works his entire contract without a day off now has the opportunity to rest and heal her body.
Although the further course of this story is the reason why I write this. It happened on this yacht that unfortunately the number of infected people increased and that a good part of the crew had to be disembarked from the ship itself to the hotel.
At this moment the feeling is not the easiest, doubts arise when we disembark, what to take, at what time, for how long? Which can have a huge impact on recovery from COVID-19. Not knowing is great pain, especially if the medical team does not know all the information.
Looking on isolation in a positive way
But what a beautiful image, you who work without a day off during your contract, can now go a few days off the ship.
I can convey that this crew member stayed 5 days in a hotel in a huge bed, a room with windows and a terrace. He could listen to the birds in the morning and drink coffee on the balcony with his legs up.
After the third day, he could leave the hotel and walk around Barcelona, oh, how charming, isn't it?
What if crew members get a week-long break during a contract?
Now imagine this when COVID-19 passes, and when you no longer have to wear a mask and the requirements change, that in case you get a cold or get sick on board, the cruise line assures you that you can leave the ship for 3-5 days. to rest and heal your body. Or even to present it as normal that half of his long contract of 4, 6 or 9 months, you can get 3-5 days off the boat as far as good work from him?
I think it would be a great reward and well deserved, especially for someone who stays on the ship for 10 months.
Think about how much that would mean to you, how much more productive the worker would be, more satisfied and happy when they had a short break.
The trick to maintaining morale is to treat the crew like guests.
They don't say for anything; Happy crew, happy mission!