Crewmember Airlifted From Celebrity Summit After Suffering Heart Attack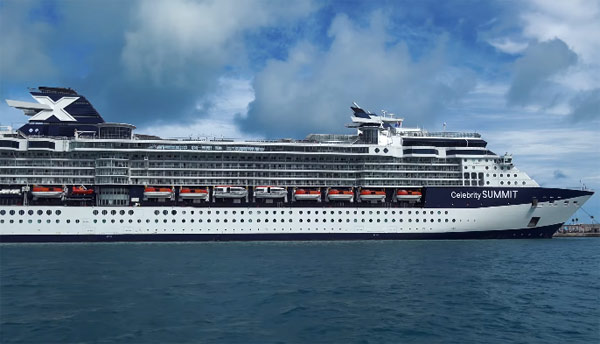 The U.S. Coast Guard conducted medical evacuation of a crew member from the cruise ship Celebrity Summit approximately 230 miles off the coast of New Jersey, Monday afternoon.
Ships officers notified watchstanders at the 5th District command center on Monday morning that a 61-year-old male crewmember was suffering from heart attack symptoms and needed urgent medical assistance. The Coast Guard watchstanders directed the cruise ship to change course and sail towards shore to conduct the medevac.
US Coast Guard reports that a MH-65 Dolphin helicopter was dispatched by Air Station Atlantic City to medevac the man, and HC-130 Hercules aircraft joined the operation to provide support to the helicopter due to distance offshore. After arriving on the scene, the helicopter landed on the cruise ship helipad and recovered both the crewmember and a nurse.
They were transported to the Atlanticare Regional Medical Center in Atlantic City, New Jersey, for additional care.
The identity of the crew member was not revealed.
Celebrity Summit is currently sailing on a 7 Night Bermuda Cruise. The cruise ship departed from Cape Liberty, Bayonne on Sunday 26 August and is scheduled to arrive at Kings Wharf, Bermuda on Wednesday 29 August. There is no announcement by Celebrity Cruises if the ship's arrival will be delayed due to the medical emergency.