Cruise itineraries affected by the most powerful Hurricane Irma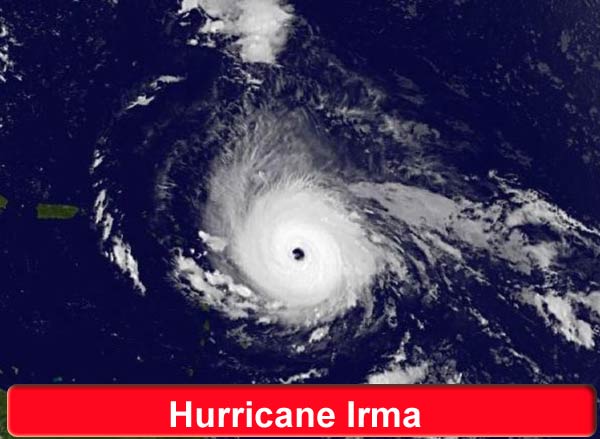 With maximum sustained winds of 185 mph (295 kph), recorded by the U.S. National Hurricane Center, the Category 5 Hurricane Irma is feared to be the most catastrophic storm ever. On Wednesday the storm will hit Puerto Rico, the Dominican Republic, Haiti on Friday, and Cuba on Saturday before possibly reaching Florida over the weekend. There is great apprehension in the United States if Irma reaches south to the Gulf of Mexico, it would break into the coasts of Florida, while in Texas and Louisiana they are still counting on the devastating floods caused by Hurricane Harvey.
Many cruise voyages in the Caribbean have been impacted by Irma, including Royal Caribbean, Carnival, Norwegian Cruise Line, Disney and MSC cruise ships.
Here is the list of changes and cancellations of the cruise itineraries:
Royal Caribbean Allure of the Seas - September 10, Western Caribbean cruise from Fort Lauderdale has been shortened.
Royal Caribbean Empress of the Seas - September 9, cruise to Havana and Key West is canceled.
Royal Caribbean Enchantment of the Seas - September 8, cruise departing from Miami is canceled.
Royal Caribbean Harmony of the Seas - September 9, the cruise has been shortened to four nights, with stops in Cozumel.
Royal Caribbean Oasis of the Seas - September 10, Eastern Caribbean cruise was been shortened to five nights.
Royal Caribbean Majesty of the Seas – September 8, Bahamas cruise has been canceled.
Carnival Liberty - September 7, from Port Canaveral, has been canceled. 
Carnival Liberty - September 8, voyage from Miami, has been canceled. 
Carnival Glory - September 2 itinerary from Miami, Florida is changed to a Western Caribbean cruise. 
Carnival Magic - September 3 voyage out of Port Canaveral will include additional sea day before heading to Cozumel, Belize and Costa Maya.
Carnival Spendor - September 3 voyage departing from Port Everglades includes a sea day today, followed by calls at Cozumel, Roatan, and Belize
Carnival Pride - September 3, voyage from Baltimore will include a sea day before heading to Charleston, Freeport, and Nassau.
Norwegian Escape - September 9 voyage from Miami is canceled. 
Norwegian Sky - September 4, voyage to Cuba is shortened to 3-days cruise instead of 4-days. Norwegian Sky 3-day Bahamas itinerary is canceled.
Disney Fantasy - is currently sailing a modified September 2 voyage and will return back to Port Canaveral, Florida on September 7 instead of September 9. The following 7-night voyage to the Eastern Caribbean is canceled. 
Disney Dream - September 4 cruise is adjusted and the vessel will arrive back in Port Canaveral one day earlier on September 7. September 8, and the September 11, cruise are canceled.
Celebrity Equinox has dropped off the port of Tortola for a day at sea. The rest of the ports remain on the itinerary, but in a different order.
MSC Divina - September 3 voyage include stops in Montego Bay, Grand Cayman, and Costa Maya. The ship is expected to return in Miami on September 9.