Cruise Ship Baptized with Giant Champagne Bottle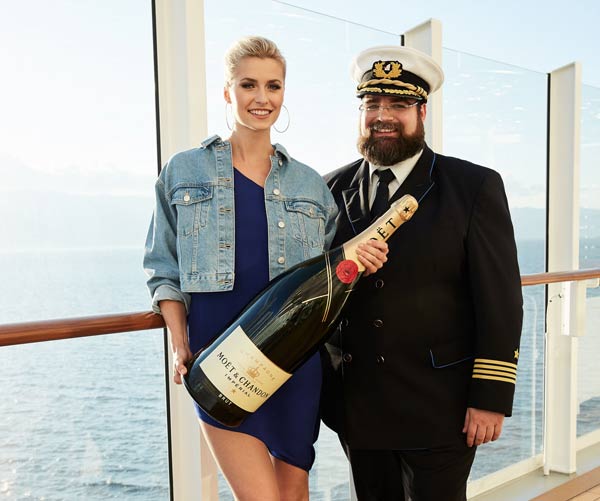 Today, June 30th, 2017, the German model and presenter Lena Gercke together with Captain Boris Becker baptized the twelfth member of the AIDA fleet named AIDAperla.
12-liter Moët & Chandon champagne was used for the ceremony held in in the port of Palma de Mallorca Spain. The giant champagne bottle didn't break on the first try, and after 10 minutes, godmother and the captain returned to the stage and pushed the button once again. This time the bottle smashed from the cruise ship hull, and fireworks lighten the sky above AIDAperla.
Among those present at the ceremony was Micky Arison Carnival Corp. chairman and Arnold Donald an AIDA Cruises president Felix Eichhorn. Stars from 'The Voice of Germany' such as Tay Schmedtmann, and Jamie-Lee Kriewitz, who won Season 5 and was Eurovision Song contestant in 2016 were in charge for the party and the good mood.
From July 1, 2017, the 300-meter-long and 37.6-meter cruise ship will travel the western Mediterranean from Palma de Mallorca as a homeport. We wishing fair winds and calm seas to all sailing on AIDAperla.