Diamond Princess Captain Returns to Italy After Coronavirus Quarantine in Japan
Captain Gennaro Arma has finally returned home after three weeks spent in the port of Yokohama on the quarantined cruise ship Diamond Princess. Captain Arma (The Gladiator Captain) together with 15 Italian Officers from the Diamond Princess, arrived yesterday afternoon at Fiumicino airport in Rome after completing the additional quarantine period in Japan. Among the first to greet them was the Italian Foreign Minister Luigi Di Maio.
The captain and his team were hailed as heroes back in Italy, however, regarding his actions and leadership during the Diamond Princess quarantine he said that he does not feel like a hero "My first reaction was to think about the health of all the people on board"
"I am happy and excited to return home. I am aware of the situation our country is going through, surely it is not an easy moment. I myself will stay home when I return." said Captain Arma before embarking on the flight from Tokyo to Rome.
Related Story: Diamond Princess Hero - Captain Gennaro Arma the last person to leave the ship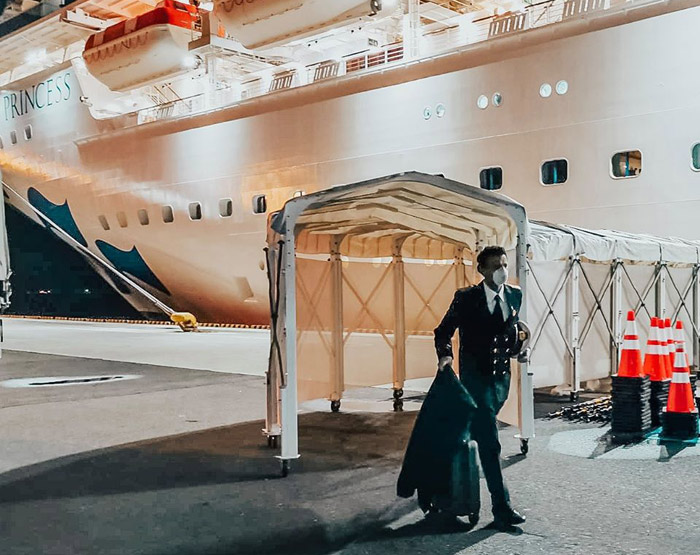 Arma also spoke about the difficult weeks aboard the Diamond Princess, which has become a hotbed for Coronavirus. "It was a completely new situation, never happened before, it was difficult to imagine how it would evolve, my thought was to keep the ship safe and maintain the health of the people on board in optimal conditions." The tension, which could happen in such a situation, actually never happened. "There has always been an excellent relationship of collaboration between the various authorities, I am very satisfied with the work that has been done on board by all of my crew".
Video: Captain Arma greeted by the Italian Foreign Minister Luigi Di Maio.
He said that he was not afraid when he was swabbed for the COVID-19 test. "I had considered that it could have happened, I would have faced it as calmly as it should be." 
When all of this is over and duty calls Captain Arma said: "I will be absolutely returning on board to join my Diamond Princess Gladiators."