Diamond Princess Hero - Captain Gennaro Arma the last person to leave the ship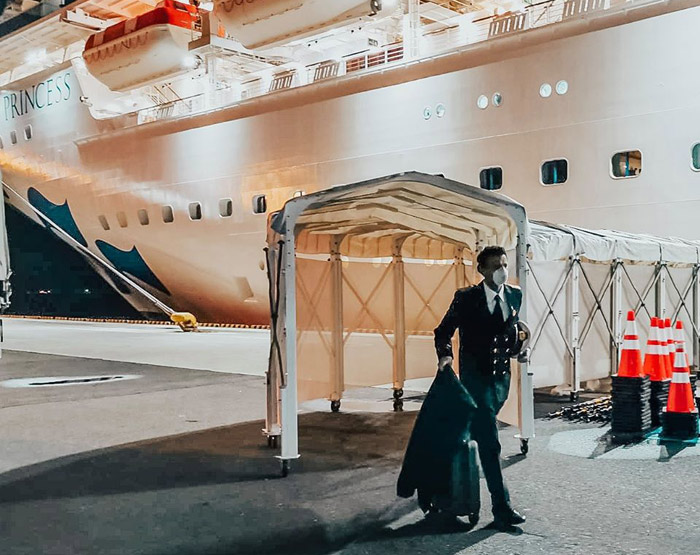 For years the business industry has attempted to determine what makes a great leader with the intention of replicating the same and teaching it in classrooms that are meant to shape the new generation of great leaders. Some of the characteristics that have been provided to describe great leaders include having faith in their belief, being passionate about their mission, ability to make the hard choices with some level of self sacrifice, ability to earn the respect of their team, knowing the weaknesses and strengths of their team, having understanding that the people are the source of their success, having ability to articulate a clear vision, encourage people to accomplish their best, and serve a great cause. However, some of history's greatest leaders consistently prove two things: regardless of the background leaders are born in the trenches amongst the people and it takes a fine balance between Grit and Grace to make a leader worth following. Even though these examples are a tall order for most of us mortals and a bar worth working towards, one man may be worth the acknowledgment in the realm of great leaders in midst of great challenge, distress and uncertainty. This man is Gennaro Arma Captain of the Diamond Princess cruise ship.
Captain Gennaro Arma was born in Sorrento, Italy who started working for Princess Cruise Lines in 1998 as a cadet. He works up the corporate ladder and eventually becomes the Captain of the Diamond Princess in 2018. He is married to his lovely and supportive wife who lives in their home in Italy with their young son. A month ago, most people did not know much about Captain Gennaro Arma unless they have worked or sailed with him. However, with the raise of the Coronavirus and the fear that took upon the hearts and minds of many as the virus started to spread rapidly, the world turned towards the Diamond Princess as it became quarantined. At the same time attention was placed towards the young Captain who managed to prevent panic breaking lose, maintaining the spirit of the crew and the guest as high as possible under such circumstances, as well as maintaining within the recommendations of the quarantine without much medically trained staff, and all while keeping humble thus his name indeed became one worth not only mentioning, but also celebrating. But don't take our word for it, just read the twits, Facebook posts, and video shared in regards to him:
"One reason why a panic has not occurred among the passengers is the captain's leadership" - guest
"I want this kind of a man to be our country's leader" – guest
"I am very proud being one of ur gladiator on this unusual crisis that we had been together Captain. Ur leadership gave us hope and courage to finish what we have started. Thank You Captain Arma. I wish for ur good health and travel home safely. Hope we work and continue our path together on our next Journey. As a gladiator always said AWOO AWOO AWOO." -crew
For the duration of the quarantine of the Diamond Princess, the world celebrated Valentine's Day in the embraces of their loved ones and with romantic dinners. Captain Arma placed his duty to his ship first yet again and reminded of the importance of faith and love by sending people on board chocolates and hearts with a beautiful quote about love from the Bible that states 
"Love bears all things, believes all things, hopes all things, endures all things."
And this makes sense as his loving and supportive wife explains their mutual relationship as one of great importance with support of each other's mutual love and her support and understanding of her husband's love for the sea, ship, crew and guests. Marianna, Captain Arma's wife, informed throughout the quarantine that "we are in contact, but we try to do it quickly so as not to take up time for his duties which have to come first." And in that statement alone, we can see the empathy and priority that many aboard the Diamond Princess noticed in the Captain himself as well.
Video: Captain Arma says farewell to his crew as they prepare to disembark the ship.
The highlight of this amazingly great man, husband, father, and leader peaks as the ship reached in the hundreds (estimated 600) affected people as the world started sending their prayers, concerns and hopes for him. His humble yet strength filled response of:
"For all of you who are concerned about me, I'm extremely moved by your kindness and I'd like to reassure you all that I'm absolutely fine. I'm very much the same captain that I was 12 days ago, just with the addition of a few new gray hairs...There's is so much to do onboard my only concern is looking after the passengers and the crew...A Diamond is a chunk of coal that did really well under pressure." And even his farewell as he is the last to depart the Diamond Princess the Captain announces that "you are the real heroes of this journey...we will miss and think of you...deserve all the credit...I'm very proud" referring to the crew and staff of the ship who stayed alongside this amazing leader.
As we mentioned earlier, great leaders are born in the trenches amongst the people filled with characteristics that build with a perfect balance of Grit and Grace, but what is Grit and what is Grace and how does Captain Arma bear against the test of all? Well, Grit means the hard work that comes along with challenges and the same neither defeating nor defining a person. Grace, on the other hand, is doing so with kindness towards self and others even when it's very hard. And while those extra gray hairs did not happen from a leisure time, but care and concern with a hint of self-sacrifice while making hard decisions with much kindness we can conclude that Captain Gennaro Arma is the epitome of a great leader who has a perfect balance of Grit and Grace.
Photo Credit: Diamond Princess First Officer - Vincenzo Guardascione