Find out: How many crew members work in the cruise industry?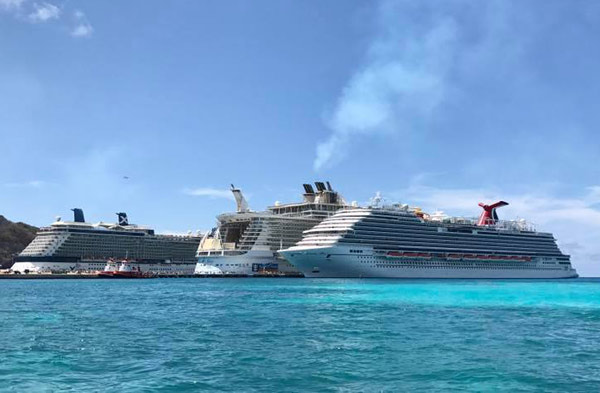 Have you ever wonder how many crew members are employed in the cruise industry? Based on the data collected by the crew center team we managed to give you a rough estimate. The total number of the crew working on cruise ships is 223.914 employees. Currently on board the cruise ships worldwide there are 186.595 plus 37.319 crew members on vacation waiting to join the vessels. This analysis includes 90% of the world's largest cruise companies and therefore the total estimated number is around 250.000 crew members.
Royal Caribbean Cruises is the biggest employer with 33.602 crew, followed by Carnival Cruise Line 32.298, and Norwegian Cruise Line with 19.669 shipboard employees. However, if you compare on Corporate Level, Carnival Corporation & plc is by far largest employer, with 10 cruise lines and combined fleet of over 100 vessels deployed worldwide.
Below is a list of all major cruise lines and crew on board plus 20% of the crew for rotation. Please note, this is independent analysis created by Crew Center and is for informational purposes only. If you wish to share or use this data you can do so without prior approval, however, please make sure to you add the source and link to this analysis. The data presents a number of the shipboard personnel including crew, staff, officers, shore side employees are not included.
Cruise Ship
Cruise Line
Crew on board
Rotateing Crew 20%
AIDAbella
AIDA Cruises
630
126
AIDAblu
AIDA Cruises
630
126
AIDAcara
AIDA Cruises
360
72
AIDAdiva
AIDA Cruises
635
127
AIDAluna
AIDA Cruises
635
127
AIDAmar
AIDA Cruises
610
122
AIDAperla
AIDA Cruises
900
180
AIDAprima
AIDA Cruises
900
180
AIDAsol
AIDA Cruises
635
127
AIDAstella
AIDA Cruises
610
122
AIDAvita
AIDA Cruises
426
85,2
Total 
6971
1394
Total number of Crew members employed by AIDA Cruises
8365
 
Azamara Journey
Azamara Club Cruises
380
76
Azamara Quest
Azamara Club Cruises
380
76
Total 
760
152
Total number of Crew  employed by Azamara Club  Cruises
912
 
Carnival Breeze
Carnival Cruise Line
1367
273,4
Carnival Conquest
Carnival Cruise Line
1150
230
Carnival Dream
Carnival Cruise Line
1367
273,4
Carnival Ecstasy
Carnival Cruise Line
920
184
Carnival Elation
Carnival Cruise Line
920
184
Carnival Fantasy
Carnival Cruise Line
920
184
Carnival Fascination
Carnival Cruise Line
920
184
Carnival Freedom
Carnival Cruise Line
1150
230
Carnival Glory
Carnival Cruise Line
1150
230
Carnival Imagination
Carnival Cruise Line
920
184
Carnival Inspiration
Carnival Cruise Line
980
196
Carnival Legend
Carnival Cruise Line
930
186
Carnival Liberty
Carnival Cruise Line
1150
230
Carnival Magic
Carnival Cruise Line
1367
273,4
Carnival Miracle
Carnival Cruise Line
934
186,8
Carnival Paradise
Carnival Cruise Line
920
184
Carnival Pride
Carnival Cruise Line
930
186
Carnival Sensation
Carnival Cruise Line
920
184
Carnival Spirit
Carnival Cruise Line
910
182
Carnival Splendor
Carnival Cruise Line
1150
230
Carnival Sunshine
Carnival Cruise Line
1040
208
Carnival Triumph
Carnival Cruise Line
1150
230
Carnival Valor
Carnival Cruise Line
1150
230
Carnival Victory
Carnival Cruise Line
1150
230
Carnival Vista
Carnival Cruise Line
1450
290
Total 
26915
5383
Total number of Crew  employed by Carnival Cruise Line
32298
 
Celebrity Constellation
Celebrity Cruises
1000
200
Celebrity Eclipse
Celebrity Cruises
1500
300
Celebrity Equinox
Celebrity Cruises
1500
300
Celebrity Infinity
Celebrity Cruises
1000
200
Celebrity Millennium
Celebrity Cruises
1000
200
Celebrity Reflection
Celebrity Cruises
1500
300
Celebrity Silhouette
Celebrity Cruises
1500
300
Celebrity Solstice
Celebrity Cruises
1500
300
Celebrity Summit
Celebrity Cruises
1000
200
Total 
11500
2300
Total number of Crew  employed by Celebrity Cruises
13800
 
Costa Deliziosa
Costa Cruises
1000
200
Costa Fascinosa
Costa Cruises
1100
220
Costa Favolosa
Costa Cruises
1050
210
Costa Diadema
Costa Cruises
1250
250
Costa Luminosa
Costa Cruises
1000
200
Costa Magica
Costa Cruises
1000
200
Costa Mediterranea
Costa Cruises
920
184
Costa neoClassica
Costa Cruises
610
122
Costa neoRiviera
Costa Cruises
670
134
Costa Pacifica
Costa Cruises
1000
200
Total 
9600
1920
Total number of Crew  employed by Costa Cruises
11520
 
Crystal Esprit
Crystal Cruises
91
18,2
Crystal Serenity
Crystal Cruises
545
109
Crystal Symphony
Crystal Cruises
545
109
Total 
1181
236,2
Total number of Crew  employed by Crystal Cruises
1417,2
 
Queen Elizabeth
Cunard Line
996
199,2
Queen Mary 2
Cunard Line
1253
250,6
Queen Victoria
Cunard Line
1253
250,6
Total 
3502
700
Total number of Crew  employed by Cunard Line
4202
 
Disney Dream
Disney Cruise Line
1500
300
Disney Fantasy
Disney Cruise Line
1450
290
Disney Magic
Disney Cruise Line
945
189
Disney Wonder
Disney Cruise Line
945
189
Total 
4840
968
Total number of Crew  employed by Cunard Line
5808
 
Balmoral
Fred. Olsenn Cruise Line
500
100
Black Watch
Fred. Olsenn Cruise Line
330
66
Boudicca
Fred. Olsenn Cruise Line
320
64
Braemar
Fred. Olsenn Cruise Line
400
80
Total 
1550
310
Total number of Crew  employed by Cunard Line
1860
 
ms Amsterdam
Holland America Line
600
120
ms Eurodam
Holland America Line
800
160
ms Koningsdam
Holland America Line
1030
206
ms Nieuw Amsterdam
Holland America Line
930
186
ms Noordam
Holland America Line
800
160
ms Oosterdam
Holland America Line
815
163
ms Prinsendam
Holland America Line
460
92
ms Rotterdam
Holland America Line
600
120
ms Veendam
Holland America Line
560
112
ms Volendam
Holland America Line
650
130
ms Westerdam
Holland America Line
800
160
ms Zaandam
Holland America Line
561
112,2
ms Zuiderdam
Holland America Line
800
160
Total 
9406
1881
Total number of Crew  employed by Holland America Line
11287
 
MSC Armonia
MSC Cruises
720
144
MSC Divina
MSC Cruises
1370
274
MSC Fantasia
MSC Cruises
1325
265
MSC Magnifica
MSC Cruises
987
197,4
MSC Meraviglia
MSC Cruises
1400
280
MSC Musica
MSC Cruises
990
198
MSC Opera
MSC Cruises
730
146
MSC Orchestra
MSC Cruises
990
198
MSC Poesia
MSC Cruises
990
198
MSC Preziosa
MSC Cruises
1300
260
MSC Seaside
MSC Cruises
1420
284
MSC Sinfonia
MSC Cruises
720
144
MSC Splendida
MSC Cruises
1325
265
Total 
14267
2853
Total number of Crew  employed by MSC Cruises
17120
3424,08
Norwegian Breakaway
Norwegian Cruise Line
1590
318
Norwegian Dawn
Norwegian Cruise Line
1032
206,4
Norwegian Epic
Norwegian Cruise Line
1730
346
Norwegian Escape
Norwegian Cruise Line
1730
346
Norwegian Gem
Norwegian Cruise Line
1100
220
Norwegian Getaway
Norwegian Cruise Line
1600
320
Norwegian Jade
Norwegian Cruise Line
1000
200
Norwegian Jewel
Norwegian Cruise Line
1000
200
Norwegian Pearl
Norwegian Cruise Line
1000
200
Norwegian Sky
Norwegian Cruise Line
950
190
Norwegian Spirit
Norwegian Cruise Line
912
182,4
Norwegian Star
Norwegian Cruise Line
1100
220
Norwegian Sun
Norwegian Cruise Line
847
169,4
Pride of America
Norwegian Cruise Line
800
160
Total 
16391
3278
Total number of Crew  employed by Norwegian Cruise Line
19669
 
Oceania Insignia
Oceania Cruises
400
80
Oceania Marina
Oceania Cruises
800
160
Oceania Nautica
Oceania Cruises
386
77,2
Oceania Regatta
Oceania Cruises
386
77,2
Oceania Riviera
Oceania Cruises
800
160
Oceania Sirena
Oceania Cruises
400
80
Total 
2772
554,4
Total number of Crew  employed by Oceania Cruises
3326
 
P&O Adonia
P&O Cruises
385
77
P&O Arcadia
P&O Cruises
880
176
P&O Aurora
P&O Cruises
850
170
P&O Azura
P&O Cruises
1200
240
P&O Britannia 
P&O Cruises
1300
260
P&O Oceana
P&O Cruises
900
180
P&O Oriana
P&O Cruises
800
160
P&O Ventura
P&O Cruises
1226
245,2
Total 
6276
1255,2
Total number of Crew  employed by P&O Cruises
7531
 
Pacific Aria
P&O Australia
560
112
Pacific Dawn
P&O Australia
690
138
Pacific Eden
P&O Australia
560
112
Pacific Explorer
P&O Australia
900
180
Pacific Jewel
P&O Australia
680
136
Total 
3390
678
Total number of Crew  employed by P&O Australia
4068
 
Albatros
Phoenix Reisen
340
68
Amadea
Phoenix Reisen
280
56
Artania 
Phoenix Reisen
420
84
Total 
1040
208
Total number of Crew  employed by Phoenix Reisen
1248
 
Caribbean Princess
Princess Cruises
1200
240
Coral Princess
Princess Cruises
980
196
Crown Princess
Princess Cruises
1200
240
Diamond Princess
Princess Cruises
1100
220
Emerald Princess
Princess Cruises
1200
240
Grand Princess
Princess Cruises
1100
220
Island Princess
Princess Cruises
890
178
Pacific Princess
Princess Cruises
373
74,6
Regal Princess
Princess Cruises
1346
269,2
Royal Princess
Princess Cruises
1346
269,2
Ruby Princess
Princess Cruises
1200
240
Sapphire Princess
Princess Cruises
1100
220
Sea Princess
Princess Cruises
875
175
Star Princess
Princess Cruises
1100
220
Sun Princess
Princess Cruises
900
180
Total 
15910
3182
Total number of Crew  employed by Princess Cruises
19092
 
Pullmantur Horizon
Pullmantur Cruceros
620
124
Pullmantur Monarch
Pullmantur Cruceros
830
166
Pullmantur Zenith
Pullmantur Cruceros
670
134
Total 
2120
424
Total number of Crew  employed by Pullmantur Cruceros
2544
 
Seven Seas Explorer
Regent Seven Seas
600
120
Seven Seas Mariner
Regent Seven Seas
445
89
Seven Seas Navigator
Regent Seven Seas
324
64,8
Seven Seas Voyager
Regent Seven Seas
445
89
Total 
1814
362,8
Total number of Crew  employed by Regent Seven Seas
2176
 
Adventure Of The Seas
Royal Caribbean
1185
237
Allure Of The Seas
Royal Caribbean
2150
430
Anthem Of The Seas
Royal Caribbean
1500
300
Brilliance Of The Seas
Royal Caribbean
858
171,6
Enchantment Of The Seas
Royal Caribbean
770
154
Explorer Of The Seas
Royal Caribbean
1181
236,2
Freedom Of The Seas
Royal Caribbean
1385
277
Grandeur Of The Seas
Royal Caribbean
770
154
Harmony Of The Seas
Royal Caribbean
2100
420
Independence Of The Seas
Royal Caribbean
1360
272
Jewel Of The Seas
Royal Caribbean
860
172
Liberty Of The Seas
Royal Caribbean
1360
272
Majesty Of The Seas
Royal Caribbean
830
166
Mariner Of The Seas
Royal Caribbean
1181
236,2
Navigator Of The Seas
Royal Caribbean
1181
236,2
Quantum Of The Seas 
Royal Caribbean
1250
250
Oasis Of The Seas
Royal Caribbean
2150
430
Ovation Of The Seas
Royal Caribbean
1500
300
Radiance Of The Seas
Royal Caribbean
860
172
Rhapsody Of The Seas
Royal Caribbean
765
153
Serenade Of The Seas
Royal Caribbean
860
172
Vision Of The Seas
Royal Caribbean
765
153
Voyager Of The Seas
Royal Caribbean
1181
236,2
Total 
28002
5600
Total number of Crew  employed by Royal Caribbean
33602
 
SeaDream I
Sea Dream
85
17
SeaDream II
Sea Dream
85
17
Total 
170
34
Total number of Crew  employed by Sea Deam
204
 
Silver Cloud
Silversea
185
37
Silver Discoverer
Silversea
70
14
Silver Explorer
Silversea
111
22,2
Silver Muse
Silversea
408
81,6
Silver Shadow
Silversea
295
59
Silver Spirit
Silversea
376
75,2
Silver Whisper
Silversea
295
59
Silver Wind
Silversea
197
39,4
Total 
1937
387
Total number of Crew  employed by Silversea
2324
 
Thomson Celebration
Thomson Cruises
540
108
Thomson Dream
Thomson Cruises
615
123
TUI Discovery 2
Thomson Cruises
735
147
TUI Discovery
Thomson Cruises
760
152
Total 
2650
530
Total number of Crew  employed by Thomson Cruises
3180
 
Mein Schiff 1
TUI Cruises
900
180
Mein Schiff 2
TUI Cruises
780
156
Mein Schiff 3
TUI Cruises
1000
200
Mein Schiff 4
TUI Cruises
1000
200
Mein Schiff 5
TUI Cruises
1000
200
Mein Schiff 6
TUI Cruises
1000
200
Total 
5680
1136
Total number of Crew  employed by TUI Cruises
6816
 
Viking Sea
Viking Ocean Cruises
480
96
Viking Sky
Viking Ocean Cruises
480
96
Viking Star
Viking Ocean Cruises
480
96
Viking Sun
Viking Ocean Cruises
480
96
Total 
1920
384
Total number of Crew  employed by Viking Ocean Cruises
2304
 
Seabourn Encore
Seabourn Cruises
450
90
Seabourn Odyssey
Seabourn Cruises
330
66
Seabourn Quest
Seabourn Cruises
330
66
Seabourn Sojourn 
Seabourn Cruises
330
66
Total 
1440
288
Total number of Crew  employed by Viking Ocean Cruises
1728
 
Star Breeze
Windstar Cruises
140
28
Star Legend
Windstar Cruises
140
28
Star Pride
Windstar Cruises
124
24,8
Wind Spirit
Windstar Cruises
88
17,6
Wind Star
Windstar Cruises
88
17,6
Wind Surf
Windstar Cruises
163
32,6
Total 
743
148,6
Total number of Crew  employed by Viking Ocean Cruises
891,6
 
Celestyal Crystal
Celestyal Cruises
400
80
Celestyal Nefeli
Celestyal Cruises
340
68
Celestyal Olympia
Celestyal Cruises
650
130
Total 
1390
278
Total number of Crew  employed by Viking Ocean Cruises
1668
 
Grand total of crew on board and rotating crew
186595
37319
Grand total of on board crew employed by  the cruise industry
223914