Former Crew Member to Run The Longest Marathon From Ushuaia to Alaska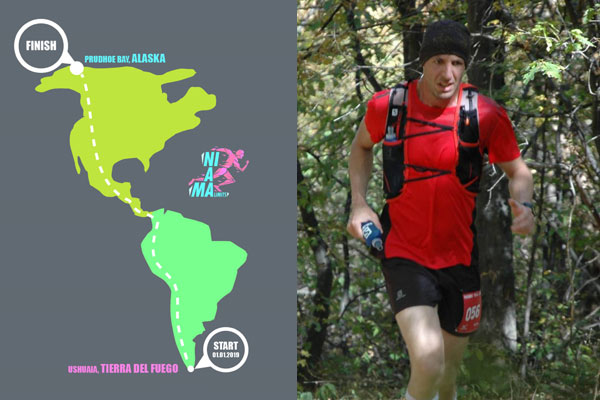 Many crew members have inspired thousands with their talents, creativity, achievements, and skills. However the challenge that one former cruise ship crew member will attempt to achieve is truly an epic one. Starting January 1, 2019, the young Argentinian Juan Pablo Savonitti, will run for the first time throughout the American continent, from Ushuaia, Tierra del Fuego (Argentina) to Prudhoe Bay, Alaska (USA). Just to put in perspective how big this challenge is, the air distance between these two points is more than 15 thousand kilometers, but by routes and roads, it extends to 35 thousand kilometers. The ultra-epic marathon named "Running to the end of the World: From Ushuaia to Alaska" will last 900 days.
Before becoming an extreme-runner, the 35-year-old Juan Pablo worked 5 years as Guest Relations Manager for MSC Cruises and 1 year as Executive Concierge with Regent Seven Seas. 
Two years ago he discovered his new passion, the ultramarathon, and since then he participated in more than 20 ultramarathons of more than 100 kilometers. One of the most challenging ones in which he participated is the one in the Alps: 340 kilometers with high altitude difference. "It's like going up and down Everest twice," Juan Pablo explains.
In 2015 he had his first contact with the mountain ultramarathons in Sofia (Bulgaria), where he was working for a short period of time. "I admit that I was not really training for this discipline since at that time I was oriented to the CrossFit. He even confessed that he had to lie to participate: "As the entry process was closed, I insisted to join by saying that I was in Bulgaria for the race, and with that excuse they let me participate".
Preparing for this historic ultra-run Savonitti says he started thinking about his limits and after few months he decided to prepare the Pan-American Route project (to cross the American continent running from Alaska to Ushuaia).
By achieving his goal he hopes to raise funds which will be donated to the World Organization of the Deaf.
"I will be running in aid of the deaf communities across the World. I am currently working on this project to help promote Sign Language and improve integration between the deaf community and the rest of the World. This project will be funded by inviting organizations and private companies/individuals to donate 1 USD for each KM that I run. (all sums great or small are gratefully appreciated), starting from January 1st, 2019, until the final destination. The more donations we receive, the more we can do to support the deaf communities across the World."
If you want to become a supporter and make a small donation for this historic run visit the following link at pursu.it
For more info, you can visit Juan Pablo Savonitti website Niama Limits at http://www.niamalimits.com/en/