Getting Medical Treatment On Cruise Ship - Part 2
Once you've been examined, the doctor will determine the best course of action. If your medical condition can be treated on board, the doctor will administer treatment and medication. You may return to your cabin or be kept under observation.
If your condition is contagious but not life-threatening, you may be quarantined so you don't infect others. On a cruise ship, quarantine is very serious — and it's not optional. You'll be instructed to stay in your cabin for a specified time, and your keycard may be deactivated (so that if you leave, you won't be able to get back inside). Ship staff will bring you food, beverages, medicine, and anything else.
Related Article: Part 1: What happens if you get sick on a cruise ship?
If you are a passenger, being quarantined can ruin your cruise. Travel insurance may help; if you or your traveling companion is quarantined, that can be a covered reason for trip cancellation/interruption so that you can be reimbursed for your unused, nonrefundable trip costs.
If your emergency is urgent and life-threatening, you may require a medical evacuation to the nearest appropriate medical facility. With travel insurance, this process can be a smooth transition. Medical evacuation by helicopter typically costs tens of thousands of dollars and can rise to six figures in some parts of the world. Once you're stabilized and ready to return home, the cost of a medical escort or stretcher flight, if required, may cost another $25,000 to $30,000, on average.
When you have travel insurance with emergency medical transportation benefits, the insurance provider can arrange and pay for your evacuation if you suffer a covered illness or injury while on your trip that the local medical facilities cannot provide appropriate medical treatment.
How to prevent accidents and illness on cruise ships?
Everyone—including fellow passengers and crew—wants you to be healthy on your cruise. Here's how cruise ships prevent illnesses and what happens if you get sick or injured.
Our editors and experts handpick every product we feature. We may earn a commission from your purchases.
Whether you prefer family cruises or adult-only cruises, no one wants to get sick while on vacation. This is especially true when you're on a ship—after all, it's tricky to cut your trip short if you're floating in the middle of an ocean. Plus, falling ill on a cruise ship can have more significant implications these days. There are considerations related to cruise ships and COVID-19 that are designed to keep everyone aboard safe and healthy.
If you're planning a trip on one of the best cruise lines or one of the most affordable ones, you need to know what to do if you feel under the weather on a cruise ship, whether it's a little sea sickness or a more severe illness or injury. Consider this advice some of the essential cruise tips that all passengers should keep in mind before they board.
Are there still pre-boarding health checks?
Yes. Cruise ship staff screens passengers for health issues before boarding to protect you, your fellow passengers, and the crew. You'll be asked to fill out a form that addresses health questions and illness symptoms like fever, vomiting, and diarrhea. You may also have your temperature taken by walking through a thermal-imaging scanner. Checks for certification of COVID-19 vaccination or negative tests have, at least for now, ended (here are other recent changes that might affect your cruise). A staff member may ask you additional questions, and you might be sent for secondary screening by a doctor. They may not let you board if they determine that your or anyone else's health would be jeopardized.
What kind of medical facilities are on a cruise ship?
Choosing a cruise line that's a member of the Cruise Lines International Association (CLIA)—the largest trade association for the cruise industry—means you'll know the ship meets or surpasses a minimum standard for health and safety. CLIA requires infirmaries to have an equipped examination room and a room for intensive care. Equipment is needed to assess and monitor vital signs, administer medications and IV fluids, and process lab tests like checking blood sugar and electrolyte levels and diagnosing infections. Other typical onboard equipment includes defibrillators, ventilators, cardiac monitors, and stretchers. Some ships even have X-ray capabilities.
CLIA members must follow mandatory guidelines for their oceangoing ships, but many non-CLIA members have excellent medical facilities too. Check any cruise line's website before you book. The number of medical staff on board depends on the size of the ship. Larger ships usually have more than one doctor and a combination of paramedics and nurses. Regardless of their jobs, all crew must also be trained in safety and first aid.
What happens if you get sick on a cruise ship?
The medical staff on cruise ships can diagnose and treat some illnesses on board and prescribe medications. While cruise ships typically stock a broad range of meds, including antibiotics, there's only sometimes a large supply. Doctors may give you a prescription you can fill at a pharmacy in the next port.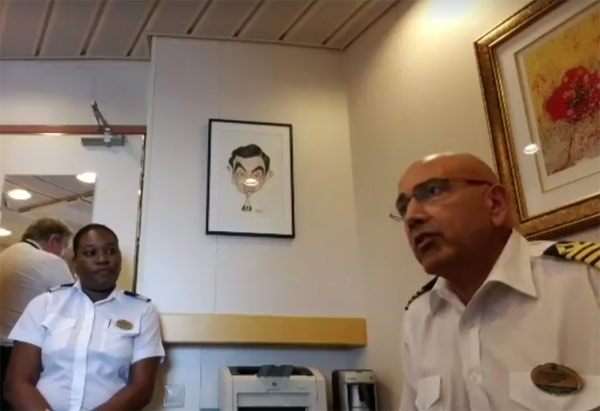 Suppose medical staff are concerned about your condition. In that case, they may advise—and even require—you to seek the advice of specialists on shore. Port agents will often arrange a taxi or even an ambulance to the treatment center for you. In the best-case scenario, your appointment will be quick, your issue resolved or aided by the specialist, and you can hop back on board your cruise cabin to heal while watching the scenery go by.
But that's not always a guarantee. It's really up to the physician to feel comfortable keeping you aboard versus disembarking you to make your way home or to a nearby facility where you can be cared for. Sometimes it's the ship's itinerary that poses the problem. For example, if the vessel has several days at sea before it reaches the next port, its doctor and captain might worry that you couldn't get the help you need if your condition worsens, and you could deny continuing your cruise.
Here are some common illnesses and how they are typically handled onboard:
- If you get seasick
Though ships are equipped with stabilizers to maximize comfort, seasickness can happen to even those with the strongest stomachs in rough waters. Many cruise ships offer seasickness medication to passengers—sometimes it's free of charge, and you can take pills from a basket outside the infirmary or at the purser's desk. Medication is also available at the gift shop. Sometimes the can of ginger ale will undoubtedly help to prevent motion; ask for some ginger ale in the bar if you are feeling seasick.
However, it's wise to make a cruise packing list and travel with the medications or remedies you know work for you, like Dramamine, Gravol, or a motion sickness patch. Many people rely on sea sickness bracelets that activate a pressure point on the wrist. Ships' doctors can prescribe stronger medications if needed.
- If you have a cold or other mild illness
Before COVID-19, colds and other minor respiratory illnesses were not taken as seriously as now. If you have any respiratory symptoms on a cruise, you may be asked to take a COVID test—likely on multiple days and with swabs of both the mouth and nostrils—to rule it out. If COVID-19 is ruled out and the ship's doctor thinks you likely have a cold, no one else on board wants to get a cold or other mild illness. So be extra diligent about washing your hands often, and wear a KN/N95-type mask to prevent germs from spreading.
The ship's medical center will likely give you the advice you would get at home—drink lots of (nonalcoholic) fluids and rest. If the doctor suspects your symptoms are caused by bacteria rather than a virus, they may prescribe an antibiotic.