Grand Princess to be Held off California - Passengers and 10 Crew Members to be Tested for COVID-19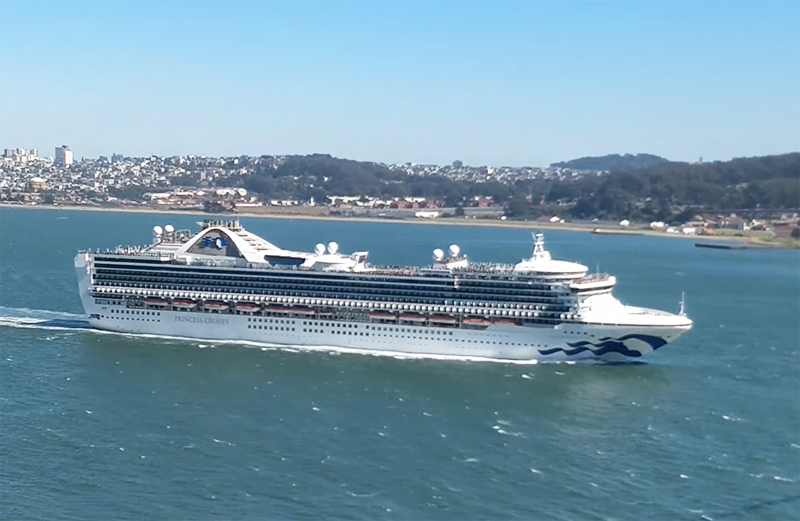 The fear of Coronavirus has spread on the cruise ship Grand Princess after two passengers on the previous February 11- 21 voyage tested positive upon arrival in California. Grand Princess is now being held off the coast of California while public health officials determine if anyone on board has been infected. The order to keep the vessel off the coast instead of docking in San Francisco came from the Governor of California, who announced the decision during a press conference Wednesday afternoon.
Governor Gavin Newsom said, 62 people on board are confined in their rooms, 11 passengers and 10 crew members on the cruise were showing flu-like symptoms as of Wednesday. During a state of emergency proclamation, Governor Newsom added that the cruise ship will stay off the coast of California until everyone on it could be screened. Testing kits will be flown via helicopter to the ship on the morning of March 5, and the results will be sent to a lab in Richmond to see if anyone with symptoms has the COVID-19 virus.
U.S health officials said no guests will be permitted to disembark Grand Princess until all results have been received. The test results are expected later today.
Princess Cruises has released a statement on the recent developments on Grand Princess saying:
"While there are no confirmed cases of COVID-19 currently on board, the CDC has identified groups of guests and crew who will be tested before arrival into San Francisco.
There are fewer than 100 guests and crew identified for testing, including all in-transit guests (guests who sailed the previous Mexico voyage and remained on board for the current Hawaii voyage), those guests and crew who have experienced influenza-like illness symptoms on this voyage, and guests currently under care for respiratory illness."
Princess Cruises has also confirmed the cancellation of the upcoming Hawaii voyage on Grand Princess Hawaii departing on March 7. All guests will receive a full refund of their cruise fare, Princess Air, Princess Cruise Plus pre- and post-cruise hotel packages, prepaid shore excursions and other prepaid items purchased through Princess Cruises.