Here are the three finalists for Harmony of the Seas Godmother
Royal Caribbean is proud to announce the three finalists of Royal Caribbean's search for South Florida hometown hero in education. You are invited to vote for this three inspiring ambassadors of education and vote for the future Harmony of the Seas Godmother with most positive influence on South Florida's youth. You can cast your vote at www.local10.com/godmother . The Online voting is open until October 14, and one finalist will be honored as Harmony of the Seas Godmother on October 24, 2016.
Anike Sakariyawo - Physical Science Teacher, Miami Norland Senior High School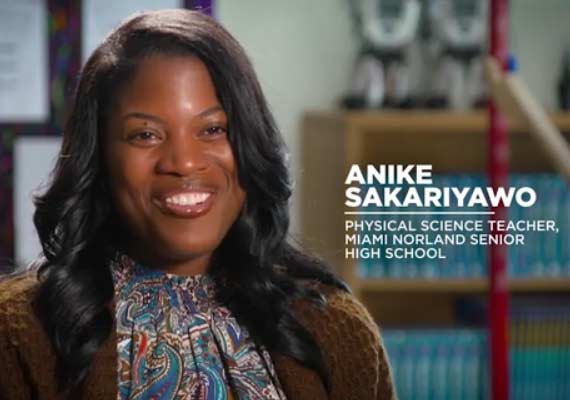 Anike Sakariyawo is President of the non-profit organization SEEK providing services for youth in various communities. This organization encourages children with opportunities to interact with diverse individuals who are less fortunate, in order to become more compassionate about the lives of other people. Anike Sakariyawo believes in the philanthropy of giving back, but she also react to needs as they arise, whether it is her own community or in communities that cross path.
Katherine O'Fallon - Magnet Coordinator, New River Middle School
Katherine is the Marine Science Magnet Coordinator at Fort Lauderdale New River Middle school. She has been the program coordinator for 4 years and prior that she was teaching marine science through grades 6-8. As a integral part in the last 7 years she is major figure in growing the Marine Science Magnet Program. Before coming to Florida, Katherine was part of the Curacao Seaquarium Marine Education and Research department in Netherlands Antilles. 
Brittany Affolter Manager, Teacher Leadership Development, Teach for America Miami-Dade
Brittany works with teachers across Miami-Dade in some of the highest needs schools and works with them to develop their knowledge skills and mindsets in education. Her teacher inspired her and she wants to inspire the students. The work of education is her passion, and she puts her heart and soul because she truly believes that every single child deserves a quality education.
"We've seen an overwhelming response from the community with an outpouring of exceptional nominations from Miami-Dade, Broward and Palm Beach counties. It is an honor to be able to recognize such inspiring educators for the work they do to make a positive impact on our youth. These three upstanding individuals have demonstrated unwavering passion and dedication, going above and beyond the classroom to make a huge difference in the community. We thank everyone who participated by recognizing our many heroes in education; they are leading the way in inspiring our youth to dream big, and that's work we all can be proud of." said Michael Bayley, President and CEO, Royal Caribbean International.