How much free time crew members have in the port, and what they usually do?
When you work on a cruise ship, time off is very important to maintain a healthy mindset and productivity. Most crew members use every single minute to get off the ship, even a short stroll at the cruise ship Terminal. To be completely honest, working in the bar department as a bar waiter and bartender gave me a lot of time off. Whenever the ship docks in the Port, most guests go outside, meaning few bartenders and bar servers are required to be on duty. For example, if the ship is sailing on seven days itinerary schedule, there are usually 3 or 4 ports of call. As a bartender, I used to get at least two ports off duty, meaning I was starting around 16h on those days. That helped me maintain a proper state of mind and prepare adequately for the upcoming work. Many times I went for island tours on the port days. Instead of returning tired from the long day outside in the hot Caribbean sunlight, I felt re-energized and wholly refreshed, especially in the Port, where we stayed overnight.
The crew is often stuck on the ship for days and days without seeing sunlight. Also, the crew is on the ship for so long that they can only ship food from the crew mess. The food sometimes can be rotated but is well-known for not being the best, and no, crew members do not eat the same food as the guests unless it'sit's the officers or captain.
One of my favorite places was the nightclub "Bamboo" in Nassau, Bahamas" It was beautiful to look forward to, even at the beginning of the cruise. Crew members would be delighted to go in "Bamboo" together because "back on board time was 0430 am. Usually, around 11 am, my friends would come to my cabin; the booze was ready, a few bottles of Jack Daniels, Malibu, GreyGoose Vodka, Chivas... On that particular day when we arrived in Nassau, it was more like cruising as a guest; I felt like a guest rather than having a job on the cruise ship. My friends and I would quickly finish all the bottles in the cabin; we called it "a warm-up session." That would throw us in sensational mode, a lot of laughs, jokes, and a great time in general. We would leave the ship thirty minutes after midnight and go to "Bamboo." The walk from the Terminal's cruise ship to the nightclub took around 15 minutes. We usually arrived in the "Bamboo" around 1 am and kept parting hard until 04 am. Many of our guests from the ship were in the same nightclub, and it was a fabulous atmosphere. Wasted, happy, and tired, we would always drag ourselves back to the ship at the last moment. And then, there was that spectacular moment just before the gangway upon the entrance gate for the crew members. The company procedures clearly state that whoever comes back on board must put their personal belongings through the security screening machine. We would pretend that we were ok and kept walking straight in front of security officers so they would not bring us to the alcohol test because that would indeed terminate our contract. We just walked past security offices, trying to look normal, even though we were completely wasted. It was soo much fun. Despite the massive hangover after Nassau, I was never tired the day after. I felt refreshed because I got to spend some amazing time outside the ship. Those were really great times.
In those contracts where the ship was visiting Nassau, I came home with 50$ savings, poor with the money but rich with the memories and beautiful moments. 
Another big reason why most of the crew members are going outside the ship is the internet. Many ports of call have the crew cafe, a place usually nearby the Port where you can use high-speed internet for an affordable cost. Besides that, most crew members would find the port internet for free because if you only rely on buying internet cards on the ship, you will go broke very fast. I used to buy four internet cards per week, that is 16 internet cards per month, and one card was $20. So I spent monthly more than $300 for the slow and very frustrating internet service. When I say frustrating, it's not only about the high cost. On a sea day, when I try to log in with my phone device, sometimes it takes 15-20 minutes to establish an internet connection or open Google. That connecting time was, of course, deducted from my available internet minutes. I had 200 minutes of internet usage when I purchased the new internet card. But in reality, sometimes it took 20 minutes to open one internet page, and after that, the connection was lost, meaning that those 20 minutes were spent for nothing. If you go to complain to the crew internet manager, he would only respond, "What to do? It's a satellite connection."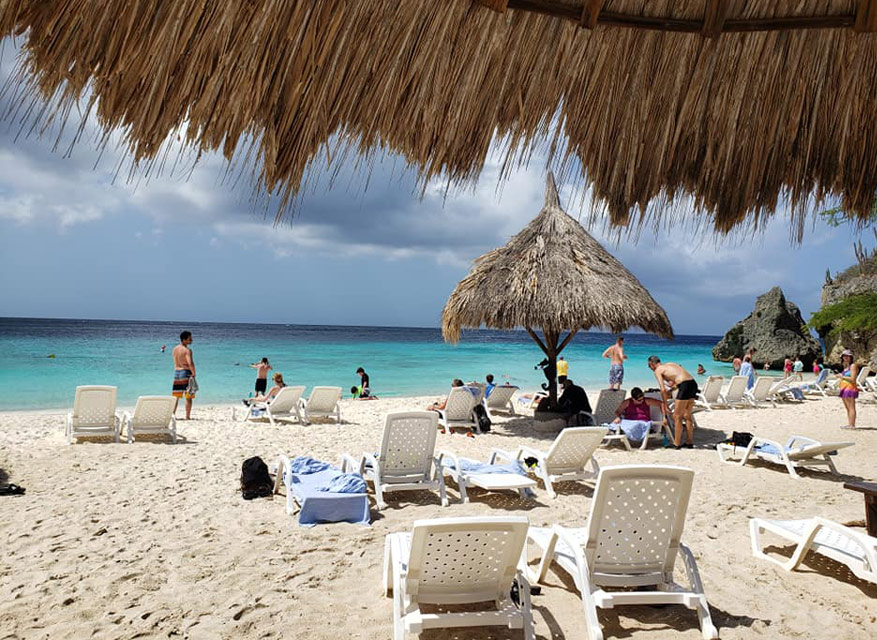 For that reason, I started to go outside only for the internet. Sometimes, I could afford to go to some restaurant to eat lunch while having a Skype chat with my family back home. But most of the time, I would stroll around the Terminal in the Port of call, and there was a free internet connection for the crew members. I remember going to Sydney, Australia, for the very first time. Most people were excited to book tours and visit the Harbour Bridge, or Opera house. For me, I was just after finding a decent internet connection. After leaving the ship for a short walk, I noticed many crew members on the stairs leading to the famous opera house. Of course, there was free internet, and I just sat down and called home from over there. Crew members are very resilient; they will always find a way.
Besides that, there are many resorts in the Caribbean where you can get a reasonable price for lunch, drinks, or pool entry. It's nice to visit this kind of place; it will make a tremendous positive difference when you come back on the ship. The most crucial part is that we need to organize our free time on board the ship. There were times when I was having a break in Cozumel from 12-15h. In those 3 hours, I managed to take a 30-minute nap to do my laundry, dry and iron my uniform, go outside for a quick lunch, and use fast internet. All of that would fit in during my 3-hour afternoon break. Organize your time efficiently; there is always a way to create a good work-life balance on the cruise ship. God bless you!