Hurricane Irma: Royal Caribbean evacuates 2 former Staff Members on Adventure of the Seas. Help Needed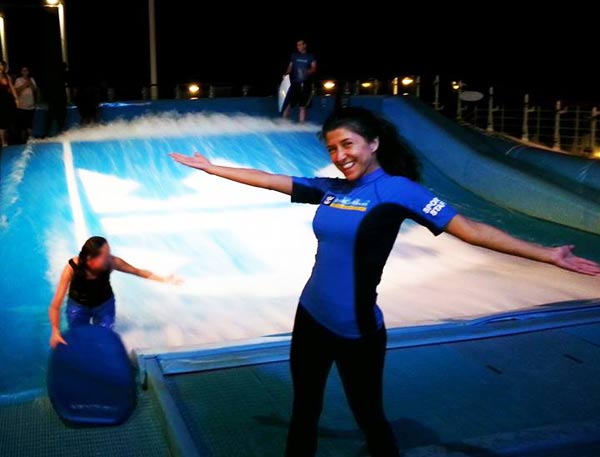 Royal Caribbean crew members joined forces on the social media to help two of its former co-workers stranded on St. Martin after the devastating wreck that Hurricane Irma left on the island. Biljana Billie Shuteva and Bisera Shuteva, former Royal Caribbean employees managed to board the cruise ship Adventure of the Seas upon arrival in St. Martin to deliver aid. Currently, the vessel is heading to Curacao from where they will try to find flights back to their home country Macedonia.
Michelle Harris, a Royal Caribbean Youth Counselor was the most active on the social media posting several messages on behalf of her friends Biljana Billie Shuteva and Bisera Shuteva.
"We have two former YS stuck in St. Martin Biljana Billie Shuteva and Bisera Shuteva Let's see if we can try to do something to help. I know many people have reached out to Billie and Bisera but no word back yet. But hopefully, we can all help them in some way whether it's getting the below post spread or to help get donations if they need it in the future."
UPDATE: Billie and Bisera and their family were able to make it onto the Adventure of the Seas today when it stopped to land humanitarian aid. They are safe at the moment and are on the way to Curacao to try to find flights to Macedonia. Thank you so much to everyone who had reposted, shared, tweeted, and donated to their go fund me page or donated to the girls directly. They still need help so keep posting!" says Michelle Harris.
Biljana Billie Shuteva posted the following message on her Facebook profile:
"Dear friends and relatives tomorrow we arrive in Curacao, and we already found accommodation there. Today was very busy day on board trying to place friends on the evacuation list on Majesty of the Seas which will on Thursday arrive in St. Maarten. Until now we have no word from the government in Macedonia regarding aid to bring us back to Macedonia. Fortunately, we have all of you, and from the bottom of my heart I thank you for your moral and financial support which gives us hope that we will arrive in Macedonia soon."
Our Message to all Royal Caribbean members: Royal Caribbean family is large and generous. That's why we kindly ask you to open your hearts and help your fellow crew members with a small donation.