Indonesian Crew Member Goes Overboard From CMV Cruise Ship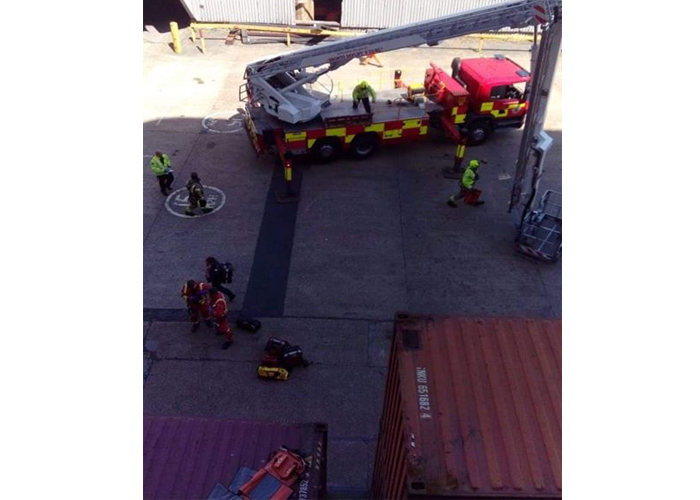 A crew member has reportedly gone overboard from the cruise ship Vasco da Gama operated by Cruise and Maritime  Voyages. According to a fellow crew member wishing to remain anonymous, the incident happen yesterday around 4 pm while the cruise ship was docked at the port of  Tilbury, London. Our source says that the crew member tried to take his own life by jumping from the ship's deck 12. He fell on top of a cargo container that was placed on the dock, next to the cruise ship.
"The crew member fell on the pier dying instantly he is from Indonesia and worked in the supply area as Storekeeper. All of us have been traumatized after this tragic sight, the police arrived and a rescue helicopter to save him, but it was already too late." said one crew member. While we highly appreciate all the updates from the crew members it seems this time the crew member didn't have accurate information.
Today CMV released a statement saying that the crew member who tried to commit suicide yesterday, survived his injuries and is now in recovering in hospital. 
"We confirm that there was an incident in the Port of Tilbury yesterday involving one of the seafarers on board a cruise vessel currently berthed at the port. The person remains in hospital and our thoughts are with their family and colleagues at this time."
A local newspaper commented today that the crew member is being treated at a hospital in London for his injuries saying that "The full circumstances of the incident are yet to be established."
Vasco da Gama arrived in Tilbury on April 30 after completing the long voyage from Phuket, Thailand that started on March 18. The cruise ship repatriated Australian and New Zealand passengers, to Fremantle, Australia before sailing on a 6,098 nautical mile voyage back to the UK. Since then the ship is docked at the port of Tilbury along with other CMV and Saga Cruises ship.