The Meaning of Banana on Cruise Ship
The word Banana has a different meanings among crew members working on a cruise ships. This word is used quite often by the crew members and means bad time, bad feeling, or disappointment. Here are some examples are shown in funny cruise ship photos of the meaning of banana. Have fun and enjoy your banana cruise. 
Special cleaning in preparation for USPH inspection is a hard time for crew members. After long working hours it takes an additional one hour to clean your cruise ship assigned station, at the night before cruise ship arrives in US port. The crew finish late and start early for the new embarkation day. This is big banana for crew.
This banana is for crew members working in the Food and Beverage department. We like to hide food and eat because when we finish late crew mess is closed. The supervisor usually does random checks and if you are not smart they can find the food and report you to the big boss. This means papelito (verbal or written warning) or in short, it means Banana.
This banana can be big, because one bad comment from a guest can place big pressure on you by your bosses and next cruise you can end up with a small station meaning less money in your pocket.
Crew love to shop in US ports, especially in Miami. We love Ross, Marshals, Victoria's Secret, Footlocker and Best Buy. On embarkation day we usually are free two hours and run to buy clothes, electronics etc. Some crew dont have time to go outside to do their shopping so we say Banana if you cant go outside for shopping.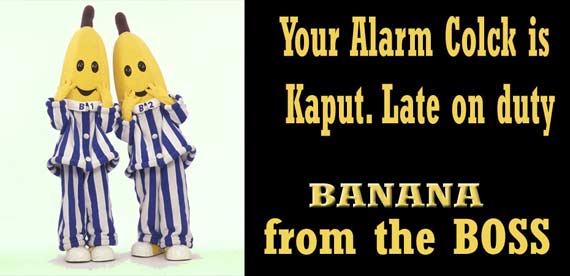 Always use two alarm clocks to wake you up in the morning. If you are late on duty you will get a banana from your supervisor.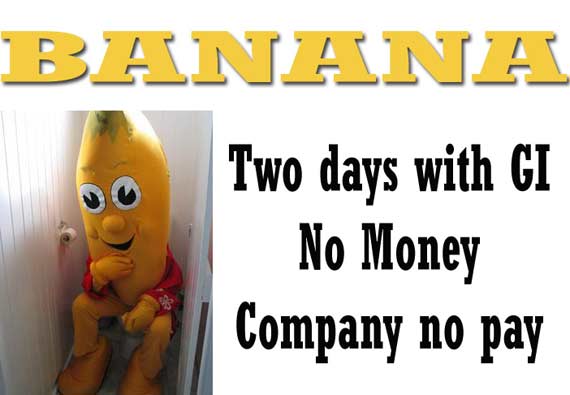 As you know Norovirus or GI is a gastrointestinal virus who can make you kaka and vomit like crazy. The infected crew spends two days in cabin isolation until the virus passes. For crew members working on tipping positions, this is banana, because they cant make money.