MSC Preziosa Crew Left Without Access to Open Deck
The command aboard the cruise ship MSC Preziosa has made the decision to temporarily close the crew open deck area, sending discontent throughout the onboard community. This move follows a series of safety policy violations by certain individuals, prompting ship authorities to clamp down on access to what is often the only gate to fresh air and sunlight for many crew members – the open deck.
Crew members aboard the MSC Preziosa have found themselves grappling with the repercussions of the new restrictions. For a significant portion of the crew, the open deck provides the only opportunity to experience fresh air and sunlight, making this decision a hard blow to their well-being.
In a letter from the MSC Preziosa's Human Resources department, shipboard personnel were notified of the recent changes. The notice read: 
"In light of recurring incidents involving inappropriate behavior and misuse of the smoking area by certain individuals, ship command has taken the decision to temporarily close the smoking area on Deck 7 - Forward / Starboard side, after numerous reminders and requests for proper conduct in the area. It is important that we maintain a secure and respectful environment that benefits everyone on board. While we understand that the closure might pose an inconvenience to those who frequently utilize that smoking area, it is crucial that we uphold the high standards of behavior and closure will persist until a comprehensive review has been conducted, and a determination has been reached regarding the appropriate course of action."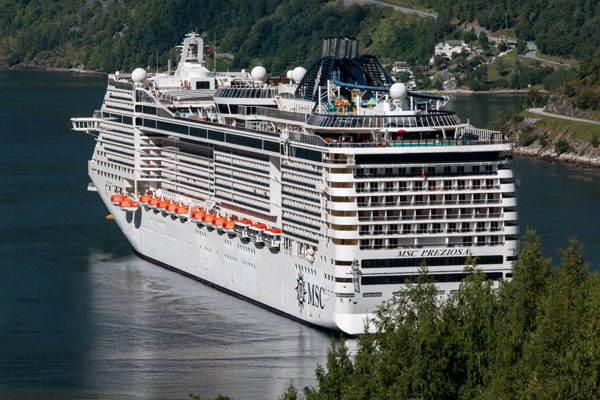 One crew member aboard the MSC Preziosa voiced concerns over the abrupt closure of the crew open deck and its impact on the crew's overall well-being. "The situation onboard is getting harder and harder when it comes to crew life," he said. He further highlighted the absence of a dedicated crew recreation area, with crew members often resorting to sitting on the floor of the outside deck on deck 7 during their leisure time. He also criticized the decision to close the area due to some individuals, suggesting that disciplinary action should target specific crew members rather than penalizing the entire crew.
The crew member's frustration resonated with others, with some echoing his sentiment that this move was severely affecting their mental and emotional state. With no designated recreation area or available seating, crew members find themselves standing in a tiny 2-meter space, deprived of the simple pleasure of gazing out at the ocean.
This development raises questions about compliance with international regulations that safeguard the rights and well-being of seafarers. The Maritime Labour Convention (MLC), often referred to as the "Seafarers' Bill of Rights," includes provisions that underscore seafarers' right to access fresh air and open-deck spaces. These provisions are designed to promote the physical and mental health of seafarers during their time at sea.
Key MLC provisions relevant to seafarers' rights to open-deck spaces include:
Standard A2.1 - Seafarers' Employment Agreements: This standard emphasizes the inclusion of terms in employment agreements that grant seafarers reasonable opportunities for recreational activities, access to open-deck spaces, and the chance to go ashore when the ship is in port.
Standard A3.1 - Accommodation and Recreational Facilities: This standard highlights the importance of providing suitable recreational facilities, including open-deck spaces, to contribute to seafarers' physical well-being, relaxation, and exercise.
Guideline B3.1.5 - Recreational Facilities: This guideline offers further guidance on recreational spaces, advocating for designated areas where seafarers can enjoy outdoor activities, weather permitting.
While these MLC provisions underscore the significance of open-deck access for seafarers, implementation and enforcement can vary based on factors such as the flag state of the vessel, the shipowner's policies, and applicable regulations. Shipowners and operators are encouraged to uphold seafarers' access to open-air spaces to ensure their overall health and well-being, all while adhering to safety and operational requirements.