Norwegian Cruise Lines hiring staff for the cruise ship Pride of America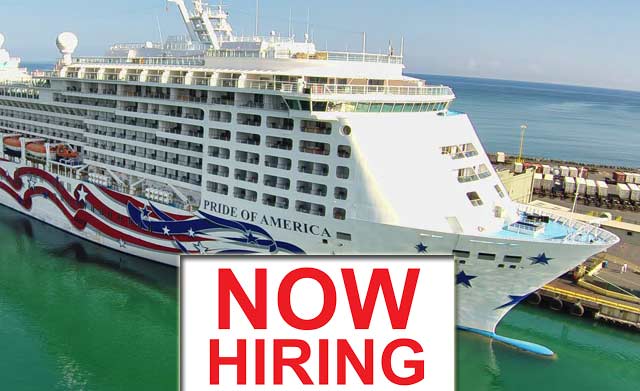 Norwegian Cruise Lines is hiring staff for its cruise ship Pride of America. The company will be holding several information sessions on shipboard employment followed by a job interview across the USA. NCL is looking for energetic, hospitality-minded candidates with both recent and relevant experience in one of the following categories: 
-Asian Cuisine Sous Chef
-Assistant Chief Butcher
-Assistant Cook
-Assistant Waiter
-Bar Waiter
-Broadcast Technician
-Entertainment Technician (Audio/Stagehand)
-Laundry Personnel
-Pastry
-Restaurant Steward (Busser/Server)
-Stateroom Steward (Hotel Room Housekeeping)
-Utility Galley (Dishwasher)
-Utility Hotel (Janitorial/Housekeeping)
Pride of America is the first cruise ship sailing under the US Flagg. Because she is flagged in the United States, Pride of America is required to carry a US crew. Therefore only US citizens are eligible to work on board. The vessel is the only American registered major cruise ship sailing year-round to Hawaii from Honolulu, sailing to Kahului (Maui), Hilo (Hawaii), Kona (Hawaii), Nawiliwili (Kauai).
IMPORTANT REQUIREMENT FOR ALL JOB APPLICANTS:
•You must have a GED or High School Diploma
•You must be legally authorized to work in the U.S. and qualify for a U.S. Coast Guard Merchant Mariner Credential (MMC) as well as a Transportation Workers Identification Credential (TWIC).
•In order to qualify for an MMC you must:
•Be at least 18 years of age
•Be a US Citizen or Permanent Resident Alien
•Pass Physical Exam/Drug Screen
•Have a Reasonably Clear Background
You can read more about the job openings on board Pride of America and apply here.