Norwegian Escape is Stuck on Sandbar in Puerto Plata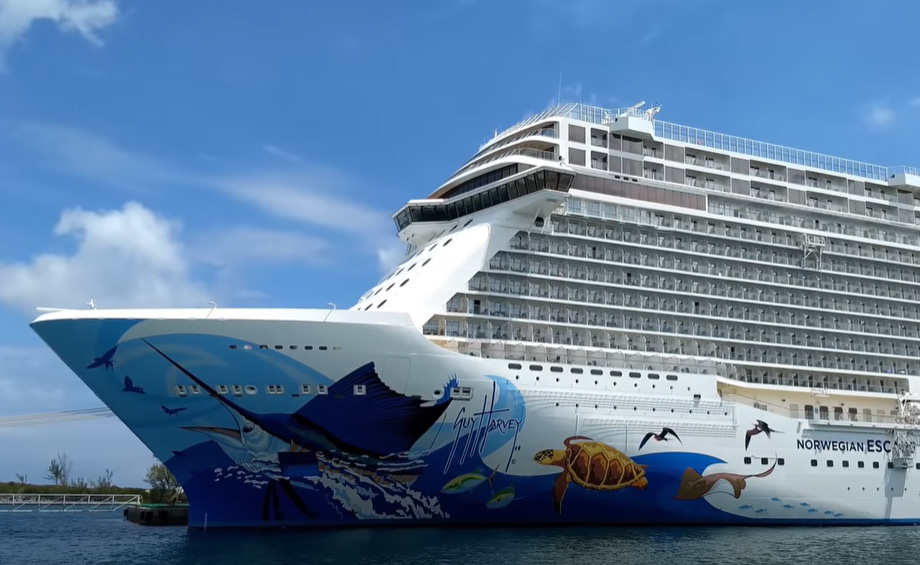 Norwegian Cruise Line cruise ship Norwegian Escape ran aground on a sandbar today, March 14, just off the coast of Puerto Plata, Dominican Republic. The incident happen as the cruise ship with 3.223 guests and 1.618 crew departed the port and got stuck shortly after at Taino Bay. Several tug boats were called to assist the ship, however, at this moment there is no progress as the Norwegian Escape has been stuck for 3 hours.
"During the afternoon on March 14, 2022, Norwegian Escape made contact with the channel bed as it was departing Puerto Plata. All guests and crew are safe, and there are no reports of damages to the ship. Operations on board have not been impacted, and all services and activities continue as scheduled. We are currently working on a solution to free the ship and ready her for safe departure," Norwegian Cruise Line said in a statement.
One passenger said that strong winds caused the ship to drift out of the channel and towards the sand dune.
"Wind blew us leaving port and the bow dug into the bottom. At least according to the latest update"
Update: still stuck and the tide is going out pic.twitter.com/Kly6DGyrCQ

— The Disney Dude (@DisneyTalk101) March 14, 2022
Several passengers sailing aboard the ship have reported the incident with one saying that the ship is slightly tilted to the port side.
Guests said that Captain Giovanni and his crew are doing a great job keeping them informed about the current situation. 
According to the update, the high tide has passed and the next one is on Tuesday morning, approximately 10 hours from now.
"We will be trying again tomorrow morning, per Captain Giovanni. Until then, they will continue with small pushes to hope to break free, but until then, the next high tide will be the deciding factor." said one guest. 
Puerto Plata - La tarde de éste lunes se encalló el crucero #NorwegianEscape, con cientos de turistas a bordo, mientras zarpaba del #puertoTaino Bay de esta provincia de #PuertoPlata, el mismo está sedentario en la puntilla del malecón. pic.twitter.com/7nAVAqD99C

— INDEMAR (@Indemarsurvey) March 15, 2022
"The crew of the Norwegian Escape are great. We've been stuck on ground just outside Puerto Plata, Dominican Republic for almost 2 and a half hours now and they're handling it with all due haste while the guest facing crew is keeping everyone calm. Good job," said another passenger currently on board.
Norwegian Escape departed from Port Canaveral, Florida on a Seven-night Caribbean cruise. Puerto Plata was the first port of call on this voyage which has scheduled stops in St Thomas, US Virgin Islands, Tortola, British Virgin Islands, Great Stirrup Cay, Bahamas before returning to  Port Canaveral, on March 19.